Icahn's Battle With eBay Will Only Get Uglier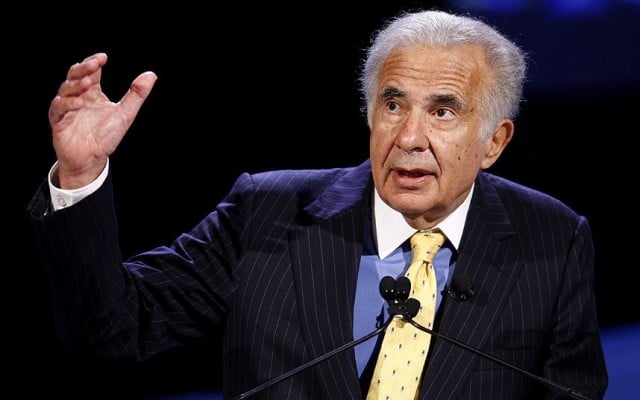 At the beginning of the week, activist investor Carl Icahn issued a scathing letter to eBay (NASDAQ:EBAY) shareholders about the "lapses in corporate governance" of eBay's board and the poor performance of CEO John Donahoe. Now both parties are continuing to fire shots at each other as Icahn calls for two members of eBay's board to step down.
Last month it was revealed in a filing that Icahn had taken a 0.8 percent economic interest in eBay, and since then, the activist investor has called for the company to spin off its PayPal payments business. Donahoe, however, has maintained that PayPal is a valuable part of eBay that should remain owned by the online retailer. "First, eBay accelerates PayPal's success. Second, eBay data makes PayPal smarter. And third, eBay funds PayPal's growth," Donahoe said in response to Icahn's suggestion that spinning off PayPal is a "no-brainer" during a post-earnings conference call last month.
Icahn, who's famous for using strong-arm tactics to influence the companies he has investments in, isn't going to let the issue go. The first letter specifically accuses Donahoe and board members Marc Andreessen and Scott Cook of maintaining conflicts of interest that have cost eBay shareholders billions in addition to calling for PayPal to be spun off. Icahn says that several members of the board are involved in businesses that directly compete with eBay and have consistently placed their own financial gains above the interests of the company's shareholders.
EBay responded in a statement, saying, "New eBay shareholder Carl Icahn has cherry-picked old news clips and anecdotes out of context to attack the integrity of two of the most respected, accomplished and value-driven technology leaders in Silicon Valley."
The company goes on to defend both Cook and Andreessen against Icahn's accusations. Icahn points to eBay's sale of Skype to Andreessen's firm Silver Lake Management as one example of bad corporate culture that led to eBay shareholders losing out on the $4 billion made by Andreessen and Silver Lake when Skype was sold to Microsoft (NASDAQ:MSFT). EBay claims that "the company explored all options for divesting Skype" and pointed out that "because Mr. Andreessen's fund had a small stake in the acquiring group, Mr. Andreessen was recused from all decision making."
Icahn issued another letter to eBay shareholders on Wednesday. He says of Andreessen and Cook, "There is no question that they are accomplished and value-driven, but we believe the primary problem, among other things, is that they appear to be value-driven for themselves, personally profiting while costing eBay stockholders at least $4 billion." Icahn defends his criticism of the Skype deal, repeating that Andreessen "sold Skype to Microsoft for $8.5 billion, thereby netting a $4 billion gain for himself and Silver Lake that should have accrued to eBay stockholders."
Icahn's latest letter also questions Cook's place on the board, since he has a $1 billion investment in Intuit, which competes directly with PayPal. "Stockholders: Please ask yourself: If you ran your own company, would you ever allow your competitors to sit at the table as you planned and executed your business strategy? We believe the obvious answer is NO!" the letter reads.
Icahn ends the letter by again calling for shareholders to vote for his preferred slate of directors and to put more pressure on eBay to spin off PayPal. "In the coming weeks we will lay out the fully detailed business case to support this separation, which has already received strong support by knowledgeable and authoritative industry commentators," Icahn writes, promising eBay and its shareholders that they will be hearing more from him soon.
More from Wall St. Cheat Sheet:
Follow Jacqueline on Twitter @Jacqui_WSCS