Intel Inches Toward TV Deal and 2 Chip Stocks To Note Now
Taiwan Semiconductor Manufacturing Company (NYSE:TSM): The company is prepared to face a growing challenge from Samsung (SSNLF.PK) in the IC foundry space, according to company chairman and CEO Morris Chang. Samsung is a formidable competitor for TSMC, claims Chang, in response to media speculation concerning a "Kill Taiwan" plan that was  reportedly embraced internally by Samsung's high-level decision makers. With its technological leadership, production manufacturing capabilities and intensive customer relationships, TSMC was always prepared and confident to fight any competitor, Chang added.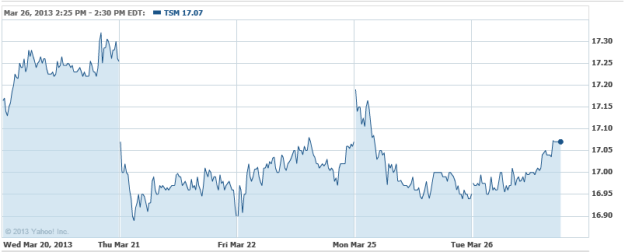 Nvidia (NASDAQ:NVDA): Nvidi fired the next salvo in the GPU arms race, The GeForce GTX 650 Ti Boost. Nvidia and its rival AMD both decided that 30 frames per second at 1080p resolution is the gaming sweet spot, and the GPU designers are doing whatever they can to make the best chips to deliver that level of performance at a $150 price point. As both companies present higher performance to gamers with the wallet to afford it. Additionally, designating 1080p as a "mainstream resolution" is likely the right move since that's the spec most consumer-oriented 23- and 24-inch displays deliver, PC World stated.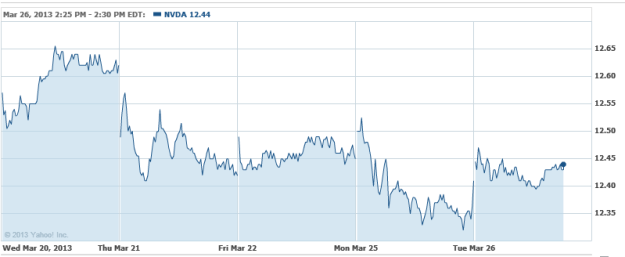 Intel (NASDAQ:INTC): Intel has inched closer to reaching a deal with Time Warner (NYSE:TWX), NBC Universal (NASDAQ:CMCSA), and Viacom (NYSE:VIAB) for access to a critical mass of TV shows and films for an online pay-TV service, Bloomberg reports. This TV service is to be the first of its kind and would, with assistance from major networks, offer consumers an alternative to established pay-TV services, claims the report. Furthermore, Intel is preparing to start financial negotiations with News Corp. (NASDAQ:NWSA), owner of the Fox film business, as its discussions with Walt Disney (NYSE:DIS) and CBS Corp. (NYSE:CBS) are less advanced.
Don't Miss: Apple's iTunes Is a Gold Mine.