Intel Previews Super-Fast Tech and 2 Chip Stocks To Note Now
Intel Corporation (NASDAQ:INTC): Current price $21.80
ZDNet reports that Intel has offered a look at its next-generation Thunderbolt controller which doubles the maximum 10 Gigabytes-per-second transfer rate that the existing version supplies. Intel showcased an early prototype of the next-generation tech codenamed Falcon Ridge at the NfAB conference for broadcasters in Las Vegas. The Thunderbolt standard is a product of endeavors by Intel and Apple (NASDAQ:AAPL), which initially included hardware interfaces for the standard in the MacBook Pro in 2011. The next generation Thunderbolt will allow 4K video file transfer and also display simultaneously, with the first output planned before the end of 2013 and "ramp" in 2014.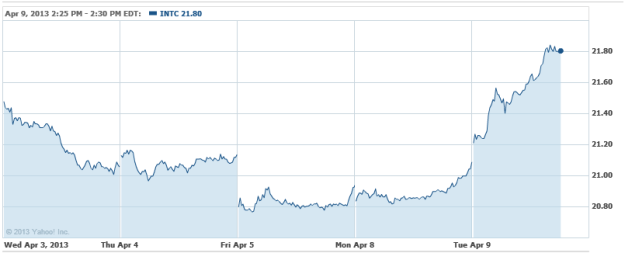 Qualcomm (NASDAQ:QCOM): Current price $65.82
Analyst Mike Walkley at Canaccord Genuity reiterated a Buy on Qualcomm shares, and elevated the price target from $83 to $85. Beyond that, he also raised his estimates for the firm's market share in chipset sales. Walkley believes that Qualcomm will receive a larger proportion of the "baseband" wireless modem chips shipped in smartphones as new models are debuted, like Samsung's (SSNLF.PK) Galaxy S4 and HTC's "One" handset. In a note, Walkley commented that "despite competitors sampling integrated LTE solutions during C2013, we believe Qualcomm's 3rd-generation LTE solutions will enable Qualcomm to maintain its competitive advantages versus competitors' first generation solutions."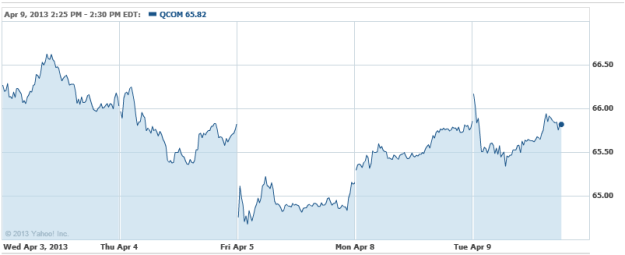 Advanced Micro Devices (NYSE:AMD): Current price $2.56
Microsoft Corporation (NASDAQ:MSFT) has recruited AMD to deliver the processing power in its forthcoming Xbox console, according to Bloomberg. The next Xbox could be unveiled in May, and consists of a system-on-a-chip sporting both AMD's Jaguar CPU and a graphics chip that is more powerful than the one available in the current Microsoft console. The chip is based on x86 architecture, indicating that it will be much easier for game developers to port their titles from PCs or mobile devices.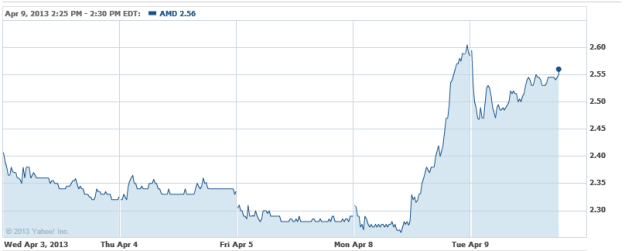 Don't Miss: Has Apple Got a New Mac on the Horizon?