Investors Punish Cisco for Slow Growth and Layoffs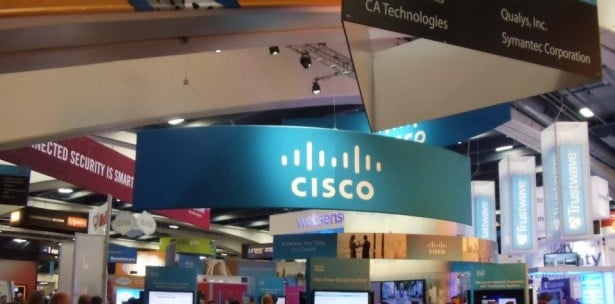 Cisco (NASDAQ:CSCO) had a rough night. Shares fell as much as 7 percent in post-market trading Wednesday after the company reported that it was laying off as much as 5 percent of its workforce and issued underwhelming guidance alongside its fiscal fourth-quarter financial results.
The results themselves were not bad: Quarterly revenue increased 6 percent on the year to $12.4 billion, just shy of the average analyst estimate of $12.41 billion. Adjusted earnings per share increased 10.6 percent to 52 cents, just beating the average analyst estimate of 51 cents.
Chairman and CEO John Chambers commented that the quarter was "a record on many fronts, with record revenue and record non-GAAP operating income, non-GAAP net income, and non-GAAP earnings per share. In every case, we exceeded the midpoint of our guidance. We also generated $4 billion in operating cash flow in the quarter, another record."
But record performance can only go so far against howling global economic headwinds. On the company's earnings call, Chambers indicated that while Cisco's business is improving, it's doing so slowly, and guided lower growth for the current quarter.
"I have kind of a blunt question," Tal Liani, an analyst with Bank of America Merrill Lynch said during the call. "If the environment is improving, why are you guiding a little bit conservative and why are you laying off 4,000 people, which is about 5 percent of your workforce, if I understand correctly?"
"So, the environment, in terms of our businesses is improving slightly, but nowhere near the pace that we want," Chambers replied. "You know what product orders have done, minus the acquisition and spinouts, because that gives you a feeling for what our growth is going to be and those will bump them up or down. It's just not growing at the speed we want. The inconsistency of global GDP growth and, about the time you see Northern Europe start to get stronger, you see the issues in emerging markets start to get softer."
Cisco's revenue in the Americas increased 7.2 percent on the year, from $6.9 to $7.4 billion. In Europe, the Middle East, and Africa, revenues increased 11 percent, from $2.8 billion to $3.1 billion. However, in the Asia Pacific, Japan, and China segment, revenues declined a fraction from $1.975 billion to $1.919 billion. Gross operating margin in the APJC segment is also the lowest, at 59.5 percent, which compares to the average margin of 62.1 percent.
APJC was also the only geographic region to experience negative product orders growth. Product orders in the region declined by 3 percent on the year compared to a 4 percent average increase across all geographic regions.
News that the industry in general is experiencing some headwinds, coupled with a broad market decline Thursday morning, helped drive shares of competitors like Juniper Networks (NYSE:JNPR) and Hewlett-Packard (NYSE:HPQ) down nearly 3 percent.
At about 62 percent, Cisco still enjoys high margins, but competition from these companies and others has narrowed this buffer down from about 70 percent a decade ago. Juniper claims the top spot in the industry at 64 percent. Chambers addressed margins during the call.
"You've heard our commitment: 61 percent, 62 percent gross margins. You heard our commitment to operating margin: 27.5 percent to 28.5 percent. You've seen our commitments to growing earnings on most quarters faster than revenues, and we see a market where we're gaining market share even at these lower numbers. Everywhere, we run business in the world, grows and keeps expenses in line with revenue growth and driving up productivity; candidly, we didn't drive productivity this last year. So with the change in the macroeconomic environment — and you saw this from the Fed officials, you've seen it in all the forecast from emerging countries et cetera, and you saw it in our business numbers, with inconsistent data even in our own operations which tends to be more lumpy than I like to see, this is just good business management."

Don't Miss: Apple's Trickle Down: Does Cheap Credit, Massive Cash Hoard Give Value to Investors?