iPad Mini Demand Drop? Not Really, Says Pegatron
When it comes to breaking Apple (NASDAQ:AAPL) news, stories that start as molehills can quickly become mountains. This is especially true when it comes to Apple's carefully scrutinized supply chain. Yesterday a Bloomberg report seemed to indicate that Apple supplier Pegatron was blaming an expected 25 to 30 percent decline in second quarter revenue on falling iPad mini demand. This claim was based on a partial quote from Pegatron CEO Jason Cheng in the Bloomberg article.
However, Philip Elmer-DeWitt at CNNMoney contacted Cheng via email in order to seek clarification. Elmer-DeWitt was suspicious of the partial quote as well as the unusual candor from the CEO regarding Apple's supply chain. Typically Apple's suppliers are rather tight-lipped when it comes to specifics about their product orders from the Cupertino-based company.
Is Apple now a once-in-a-decade buying opportunity? Click here to get your 24-page Ultimate Cheat Sheet to Apple's Stock now!
Via his email response to Elmer-DeWitt, Cheng acknowledged that the partial quote was accurate, but he also said that he never suggested that any specific product was responsible for the recent revenue decline. "We put all tablet products in this category, but have never broken down to detail numbers for specific products nor customers," wrote Cheng in his email to Elmer-DeWitt.
Unfortunately, due to the information vacuum surrounding Apple's product plans, there tends to be a hyper-focus on the slightest change in Apple's supply chain, whether it is factual or not. In this case, it appears that Bloomberg's supply chain information was less than factual to begin with.
NEW! Discover a new stock idea each week for less than the cost of 1 trade. CLICK HERE for your Weekly Stock Cheat Sheets NOW!
Here's how Apple stock has traded so far this week.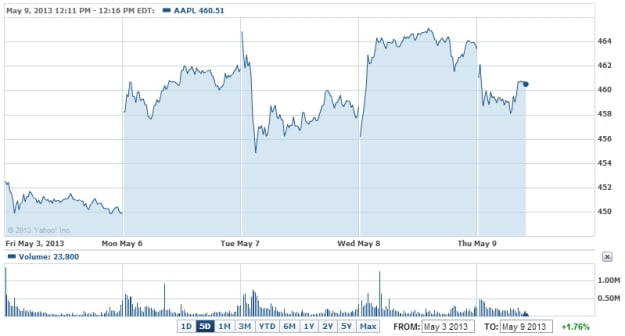 Don't Miss: Why Do These People Want Apple, Google in Their Cars?