iPhone 5 Beats Galaxy S4 in This Important Metric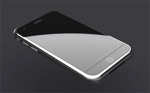 A study released by a social media analysis company found that Apple's (NASDAQ:AAPL) iPhone 5 trended much higher on Twitter after its launch date than Samsung's (SSNLF.PK) Galaxy S4 did after its debut. According to an Investing Analytics' study via CNET, the iPhone 5 was included in over five times as many tweets as the Samsung Galaxy S4 was in a comparable period.
Investing Analytics examined the Twitter data from two days around the launch dates of both products. The company studied the Twitter data from the day each smartphone entered the market, as well as the day immediately following each product debut. Around Samsung's Galaxy S4 launch earlier this month, the company tallied up 440,000 tweets that mentioned the Galaxy S4. In contrast, Apple's iPhone 5 launch last September collected approximately 2.4 million tweets according to Investing Analytics' study.
In other words, Apple sparked a great deal more Twitter buzz than Samsung did for a comparable period of time. As stated on Investing Analytics' website, "On the day the iPhone 5 was announced the iPhone 5 was Tweeted about 22.6 times every second."
Piper Jaffray analyst Gene Munster stated in a note to investors that, "We believe this demonstrates that while interest in the Galaxy S4 is growing, Apple continues to hold a meaningful lead as the smartphone with the broadest consumer appeal," reports Apple Insider.
However, not all the information gleaned from this report was positive for Apple. Investing Analytics found that 73 percent of the tweets about Apple's iPhone 5 were positive, whereas 81 percent of the tweets about Samsung's Galaxy S4 were positive. According to Apple Insider, Gene Munster's take on this slight percentage difference was that the iPhone 5 release was preceded by information leaks which may have skewed Apple's results since there were no "surprise" features.
Apple closed down 2.08 percent at $442.66 on Thursday. The chart below shows how Apple traded throughout the week.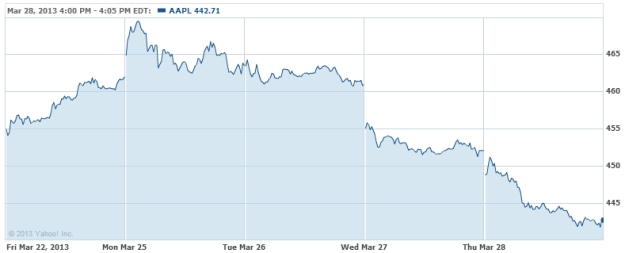 Don't Miss: Is This the iPhone 6?