Is Amazon Customer Loyalty Costing Consumers Money?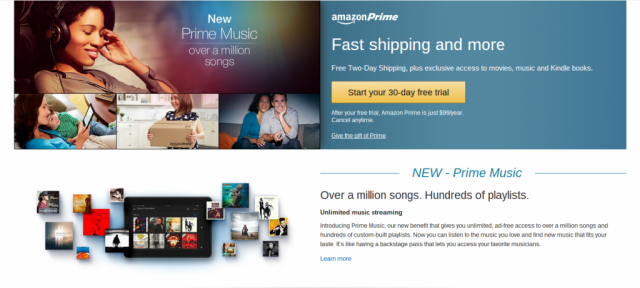 Your Amazon (NASDAQ:AMZN) Prime membership seems like a pretty good deal: You pay your membership fee once per year, and then for the rest of the year can can get free two-day shipping on more than 20 million items from Amazon's mind-bogglingly vast inventory. You also get to stream any of tens of thousands of movies and TV shows with Prime Instant Video, access more than 500,000 free books with Kindle First and the Kindle Owners' Lending Library, stream more than a million songs, plus playlists, through Prime Music, and even get Prime Video credit if you opt for the new "No-Rush" delivery method on your Prime purchases.
That sounds like a lot of benefits for a pretty good price — $99 a year, after a recent increase from $79. But could your Prime membership and the Amazon loyalty it enables actually be costing you money? It turns out that if you consistently choose to order from Amazon rather than checking around to see if there's a better price elsewhere, your loyalty to Amazon could mean that you're paying more to buy things conveniently and quickly through Amazon.
Everyone talks about how loyal Prime members are to Amazon. So exactly how loyal are they? And while we're at it, how many of them are there? While Amazon has opted not to share those details, industry reports provide an approximation. (It is worth noting though that Amazon CFO Tom Szkutak recently told investors on the company's quarterly earnings call that the company added more Prime members in the second quarter of 2014 than in the same period last year). 
A report by Consumer Intelligence Research Partners found that even after Amazon increased the annual price of a Prime membership from $79 to $99, the vast majority of Amazon Prime members intend to renew their membership when it expires. CIRP estimates that 44 percent of Amazon customers are Prime members. That adds up to about 27 million customers with Prime subscriptions. Ninety-five percent of 500 Prime members surveyed by CIRP indicated that they would "definitely" or "probably" renew their Prime membership. Josh Lowitz, partner and co-founder at CIRP, noted that Prime "enjoys solid loyalty" among customers: "While renewal intent is not the same as actual renewal, our data on length of membership and lapsed membership generally confirms that Amazon Prime members do renew their membership at rates that resemble the intended renewal."
Among the surveyed Amazon Prime members, 85 percent were aware of the increase in the Prime membership fee. The price increase was explained to the 15 percent who initially didn't know about the change, and then those members were asked again whether they intended to renew their Prime membership. Among that 15 percent, the percentage of respondents who said they would "definitely" or "probably" renew their membership declined to 71 percent.
CIRP notes that loyalty data and surveys have shown that after the initial negative reaction to a price increase, renewal rates recover. CIRP's Mike Levin says that that's due to customers having the time to consider the benefits of the service, as well as the increased cost. Additionally, CIRP adjusted the data to reflect 100 percent awareness of the new price, and found that 91 percent of Prime members would "definitely" or "probably" renew their membership.
It's in Amazon best interest to retain Prime members, since they're the company's most loyal customers. RBC Capital Markets found in June that Amazon Prime members spend an average of $538 on Amazon annually, versus the $320 per year spent by non-Prime Amazon customers. 61 percent of those surveyed said that they've spent more money on Amazon after becoming a Prime member than before, and Prime members were more likely than non-members to have spent more than $200 on Amazon over the prior 90 days.
Amazon knows that Prime members are valuable, and is building out the membership service to add value to the benefits packaged with the Prime service, and to compete with entertainment service providers like Netflix, as well. To attract and keep Prime members, Amazon has added HBO programs to the Prime Instant Video library, launched the Prime Music streaming service and subsequently added more songs to its catalog, plus said it would spent $100 million to produce new pilots of original, web-only TV shows.
All this is well and good, but while Amazon tries to keep you paying your Prime membership fee with all of those added services, did you know that most of the items you purchase on Amazon — the reason you probably joined Prime in the first place — can be bought elsewhere, cheaper?
In July, a Savings.com study looked at 1,500 best-selling Amazon products that cost more than $10 and were carried on other websites. More than 50 percent of the time, consumers could find a better price somewhere else, and save an average of $47.50. While consumers assume that Amazon has the best price, and head directly to its website when they want they order something online instead of searching other sites, the study demonstrates that that's not true all or even most of the time.
Savings.com also launched a tool called PriceJump, where consumers can input the URL of an Amazon product page to easily find out if Amazon really offers the best deal. The tool uses a rating system, with a red light signifying "Don't buy from Amazon, we found a better price for this item!" A yellow light indicates, "It's close, but we can still save you some cash!" And a green light means "Buy from Amazon. We're unable to find a better price." The service, available via the website or browser extension, aims to answer the question, "Does Amazon have the lowest price or not?" A lot of the time, the answer is no, Amazon doesn't have the lowest price — but customers continue to buy via the site anyway.
Though Savings.com said it found sites that beat Amazon's price more than 70 percent of the time, Amazon's business has continued to grow. But at the same time, its price competitiveness against other retailers like Best Buy, Target, Walmart, and Sears has continued to erode, along with the company's profitability, an area it's continually struggled in.
But even when consumers are able to get better prices elsewhere, they continue buying on Amazon because it's convenient. That seems especially true of Prime members, who are looking to get the most of their membership fee and already spend more money and buy more often from Amazon than non-members. The appeal of free shipping — even if you've already paid for it — is a big draw for consumers, and two-day shipping is online shopping's psychological equivalent of the instant gratification consumers experience when they buy something in person at a brick-and-mortar store.
As Amazon builds Prime into an entertainment service, it's looking to keep consumers in its ecosystem for as many of their online purchases as possible. Prime customers are Amazon's most loyal customers, and the ones that it perceives as most likely to spend more within new services. And on the question of whether your Prime membership is making you too loyal to Amazon and costing you money? It's likely that you've paid more than you could have for at least a few of your Amazon orders.
But depending on what you order, how often you order, and how much you like to shop around, the convenience, the fast shipping, and the added entertainment services may make the service worth it to you. After all, being one of Amazon's most loyal and valuable customers is fine, as long as the company offers enough value in its service to you, too.  As Amazon looks to continue building its Prime membership base, expect to see the company work to improve the shipping and the content that it offers, in order to attract new members and keep existing customers happy, loyal, and spending money on Amazon rather than with other retailers.
[mediagraph-partner content_url="c3d1f79f983757e8820f3221″][/mediagraph]
More from Tech Cheat Sheet:
Want more great content like this? Sign up here to receive the best of Cheat Sheet delivered daily. No spam; just tailored content straight to your inbox.