Is Amazon's Kindle Unlimited Really the Netflix of Ebooks?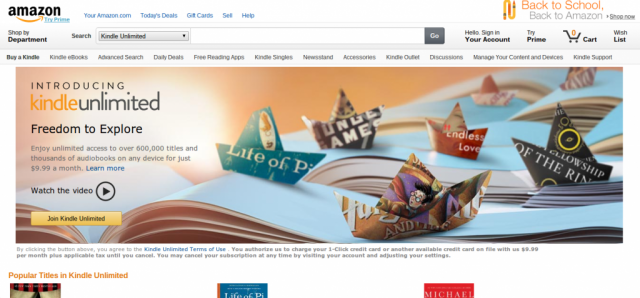 What if you could subscribe to a service that would give you access to all of the ebooks you want to read, accessible from any device that you like to read on, for a simple monthly fee? According to test pages on its website, Amazon (NASDAQ:AMZN) is testing a service that would do just that. But is the service cause for celebration for ebook devotees? Maybe not yet.
A cached link, first spotted by GigaOM's Laura Hazard Owen, reveals that the company is testing an ebook and audiobook subscription service called "Kindle Unlimited." According to the cached page, users would have access to 600,000 ebooks and "thousands" of audiobooks, from "any device" and for a price of $9.99 per month. Owen reports that most of the test pages were taken down Wednesday, after they were spotted by users on the Kindle Boards.
Titles displayed on the test pages included the Hunger Games series, the Lord of the Rings trilogy, and the Harry Potter series, and Owen was able to use those pages to infer which publishers' books might be available to Kindle Unlimited subscribers. She found a page that listed 638,416 ebooks available through the program, and writes:
"None of the books appeared to be from Big Five publishers — HarperCollins, Simon & Schuster, Penguin Random House, Macmillan, and Hachette – suggesting that, at least initially, many of the most well-known bestsellers wouldn't be available. However, I saw titles from smaller publishers like Algonquin, Bloomsbury, Houghton Mifflin Harcourt and Workman. The most well-known titles that appear to be included . . . are the Harry Potter series, the Hunger Games trilogy and the Lord of the Rings trilogy. In addition, as you might imagine, many books from Amazon's own publishing imprints are included: One page lists 989 'KU Exclusives,' consisting of books from Amazon's publishing divisions. Also, as noticed by the users of Kindle Boards Wednesday, books from Amazon's KDP Select program appear to be included. KDP Select gives self-published authors promotion and other perks in exchange for making their ebooks exclusive to Amazon for a set period of time."
A video, captured from Amazon's website by GigaOM, shows a Kindle e-reader, an iPhone, an iPad, and as Owen points out, "what appear to be a Kindle Fire tablet and a Fire Phone" in a promotion for Kindle Unlimited.
The service seems similar to the Kindle Owners' Lending Library, which is available to Amazon Prime members who own Kindles. Under that program, they can borrow one ebook every month from a library of 615,038 titles — a library which Owen says appears very similar to the Kindle Unlimited library. She also notes that Kindle Unlimited appears to be a standalone service, independent of Prime subscriptions, and Kindle Unlimited offers audiobooks in addition to ebooks. The offering of a media subscription separately from Prime subscriptions would represent a shift for Amazon, which has so far bundled offerings like Instant Video, Kindle Lending Library and Prime Music into the $99 annual Prime subscription. 
Though it does include audiobooks, Kindle Unlimited would primarily compete with ebook subscription services like Scribd and Oyster. Scribd is available on iOS and Android devices, plus via a web browser. It costs $8.99 per month for access access to a library of 400,000 ebooks. Oyster is similar, with subscriptions available on iOS and Android devices, plus Kindle Fire,and a cost of $9.95 per month for access to a library of 500,000 ebooks. Kindle Unlimited is likely to be accessible from any device that supports the Kindle ecosystem, like iOS, OS X, Android, Windows, Windows phone, and of course Kindle devices.
Scribd and Oyster include a large number of self-published books, but both platforms offer books published by HarperCollins and Simon & Schuster, publishers that Kindle Unlimited so far doesn't seem to include. However, unlike Scribd and Oyster, Kindle Unlimited would be available on Kindle e-readers, rather than just the Kindle Fire, which would represent a big benefit for Kindle owners. And TechCrunch's Darrell Etherington notes that Kindle Unlimited's inclusion of audiobooks could be another significant benefit for subscribers:
"Amazon's big advantage here could be its offering of nearly 8,000 titles in Audiobook format via its Audible acquisition, with Whispersync for Voice functionality. These are listed on the sample page, and would allow users to switch between their ebook and audiobook versions of the same title fluidly depending on their location and situation."
Amazon's offering of audiobooks as part of the subscription could also make Kindle Unlimited more competitive, especially given that Audible currently has a library of 150,000 audiobooks, according to The Verge, and charges more than $9.99 per month for limited listening.
The number of books that seem to be offered in the Kindle Unlimited library demonstrates that publishers may not be on board with the idea of Amazon's subscription service yet. The success of Kindle Unlimited, if or when it's launched, could hinge on Amazon's ability to get the publishers of major bestsellers to participate, as users complain that the current Kindle Owners' Lending Library doesn't feature new releases, or much else that they're interested in reading.
Amazon will need to avoid the same problem with Kindle Unlimited, and if it really wants to become the "Netflix of ebooks," as it's already been hailed, the service will need to find a way to provide the content that users want to offer a truly valuable subscription service. Afterall, the great thing about Netflix (NASDAQ:NFLX) is that its library is so large — and it's grown its offerings not by quarreling with distributors, but by cooperating with them.
More From Wall St. Cheat Sheet:
Want more great content like this? Sign up here to receive the best of Cheat Sheet delivered daily. No spam; just tailored content straight to your inbox.