Is Apple a Pawn in an International Proxy War?
Apple's (NASDAQ:AAPL) ongoing difficulties with various government-run Chinese media organizations entered a new phase this weekend when the Shanghai Animation Film Studio filed a lawsuit against Apple, alleging that the California-based company has been illegally selling its films through its iTunes Store.
According to a South China Morning Post report via Mac Observer, the government-owned animation studio is seeking roughly $531,112 in damages.
This latest headache for Apple in China comes on the heels of a notice from China's official State Administration for Industry and Commerce that was critical of Apple's treatment of Chinese consumers. According to Reuters, the official notice called for tighter supervision of Apple's consumer policies without offering any specific details.
Earlier this month, Apple was also the subject of a consumer rights television show that was broadcast on the government-owned China Central Television station. The show accused Apple of giving Chinese consumers poor post-sales customer service, including inferior warranty policies that differed from warranties offered in other markets.  Soon after the show aired however, Chinese social media users discovered what appeared to be a coordinated government-run smear campaign against Apple.
The Mac Observer proposes that these attacks may be part of a proxy war that the Chinese government is waging against the U.S. government in retaliation for recent legislation which banned some Chinese-made network equipment from being used on U.S. networks. The legislation was passed because of fears that the Chinese government could use the equipment to gather intelligence on U.S. networks.
Unfortunately, if this is true, there is little that Apple can do to resolve its issues in China. As Bryan Chaffin at Mac Observer notes, "This battle will be settled by bureaucrats and policy makers, not new products or corporate practices."
Apple closed down 2.08 percent at $442.66 on Thursday, at the end of a shortened trading week.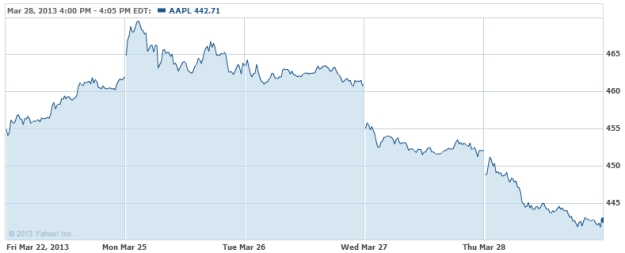 Don't Miss: Apple's Growing iCloud Claims Another Data Center.