Is Apple Debt Safer Than U.S. Government Debt?
Apple (NASDAQ:AAPL) recently reported its quarterly results for the fiscal second quarter. Although the company beat expectations on the top and bottom line, many investors and analysts are discussing the much anticipated capital return program.
The most-watched company in the market announced late Tuesday that it will return a historic amount of capital to shareholders. Apple's Board of Directors approved a plan to return $100 billion by the end of 2015, representing a $55 billion increase from the original plan announced last year. It raised its buyback program from $10 billion to $60 billion, and hiked its quarterly dividend from $2.65 to $3.05 per share.
Investors will receive an average of $30 billion per year from the time of the first dividend payment in August 2012 through December 2015. Apple is now the largest dividend payer in the market, and holds the title of launching the biggest single share-buyback program in history. The previous record-holders were Microsoft (NASDAQ:MSFT) and Procter & Gamble (NYSE:PG).
Is Apple better than government securities? Let's find out…
"We are very fortunate to be in a position to more than double the size of the capital return program we announced last year," said Tim Cook, Apple's CEO. "We believe so strongly that repurchasing our shares represents an attractive use of our capital that we have dedicated the vast majority of the increase in our capital return program to share repurchases."
Apple's dividend is now about 3 percent, which is a higher payout than 393 of the companies in the S&P 500, according to Bespoke Investment Group. In fact, Apple's yield is higher than both 10 and 30-year U.S. Treasuries, which yield 1.70 percent and 2.89 percent, respectively.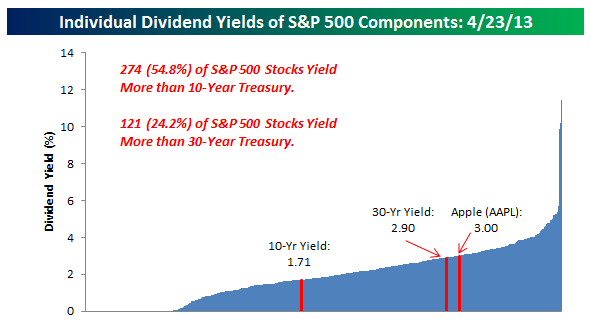 Due to Apple keeping more than $102 billion of its $145 billion cash pile offshore, the company will issue debt to help fund the capital return program. It has already secured credit ratings from Standard & Poor's and Moody's. S&P rated any future debt of Apple AA+, while Moody's assigned an Aa1 rating to any debt issuance. Both ratings are just below the best grades possible. Although Apple has a lower rating than other market giants such as Johnson & Johnson (NYSE:JNJ), Exxon Mobil (NYSE:XOM), and Microsoft, it has a better rating than U.S. Treasuries, according to S&P.
S&P downgraded U.S. government debt for the first time in history in August 2011. The credit agency now has an AA+ rating on both Apple and the United States.
Analysts from S&P explain their Apple rating, "The rating on Apple reflects the company's 'minimal' financial risk profile and "strong" business risk profile, incorporating market-leading products, a globally diverse customer base and strong profitability. Although the majority of Apple's revenues are generated in highly competitive markets characterized by rapid technology evolution and short product life cycles, it is our view that Apple's managerial and product innovation capabilities will enable the company to sustain its competitive position."
Considering that S&P has a "negative" outlook on the United States, and a "stable" outlook on Apple, the agency appears to believe Apple's debt is the safer bet.
S&P notes, "The stable outlook reflects our expectation that Apple will maintain modest leverage, significant net cash balances, and a commitment to a minimal financial risk profile. While not expected, the most likely cause of a downgrade would result from competitive market conditions that cause a material decline in operating performance and discretionary cash flow, leading to a substantial decline in Apple's net cash position."
Here's how Apple finished trading respective to the S&P, Microsoft, P&G and ExxonMobil Wednesday:

Don't Miss: Apple's Massive Cash Hoard Hits New Record.