Is Apple Edging Closer to a TV?
The buzz that Apple (NASDAQ:AAPL) is close to launching a new high-definition television set got a new push on this past week after rumors that the company was looking to acquire luxury TV maker Loewe AG. Shares in the German company received a jolt higher on the news.
"Apple supposedly wants to bid 4 euros a share for Loewe," a trader told Reuters, although a spokesman for the German company said it was unaware of any offer.
Rumors of an acquisition of the company by the iPhone maker had first surfaced in May last year after AppleInsider reported a bid worth 87.3 million euros, representing a 48 percent premium at the time. The blog said that a financial advisor had asked the company to accept the offer.
Loewe, founded in 1923 in Berlin, makes high-end home entertainment sets, but has been in some financial trouble lately in the face of economic headwinds and growing competition from Samsung (SSNLF.PK), LG, and Panasonic (NYSE:PC). The company is said to be cutting a fifth of its 1,000 jobs after losses almost tripled to 29 million euros last year.
Japanese TV maker Sharp owns 28 percent of Loewe, French digital storage device manufacturer LaCie holds another 11.2 percent, while 49 percent of its shares are freely traded.
Speaking on the question of acquisitions at the Goldman Sachs tech conference on Tuesday, Apple chief executive Tim Cook said the company was open to buying smaller firms after a deliberate and thoughtful process if it helped in making superior products.
Several analysts have predicted that the iPhone maker was close to entering the television space with an industry-changing product that has a high profit margin. Apple, predictably, has never admitted to such a product in its pipeline, though its interest in the television space has been documented since late co-founder Steve Jobs discussed the topic with his biographer Walter Isaacson.
Here's how Apple (NASDAQ:AAPL) finished trading this past week, kicking off Monday above $480 and ending Friday slightly above $460: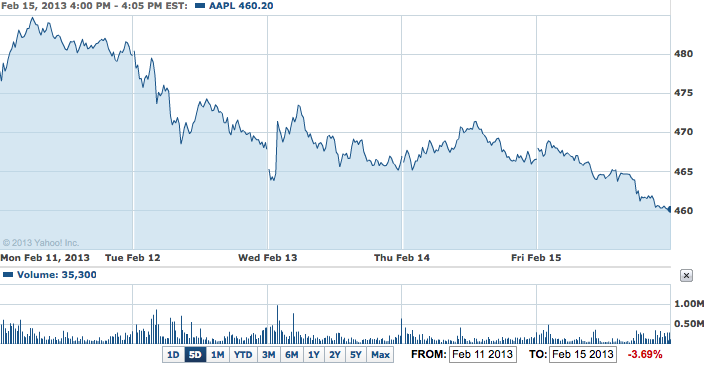 Don't Miss: Apple Has This Sweet Surprise For Mac Buyers.