Is Apple Fixing Its Labor Problems?
Apple (NASDAQ:AAPL) said it cut off Guangdong Real Faith Pingzhou Electronics as a component supplier last year after discovering as many as 74 underage labor violations at the circuit board manufacturer's factories. Apple also discovered and reported an employment agency that was forging documents to allow people younger than 16 to work illegally at the supplier.
"Underage labor is a subject no company wants to be associated with, so as a result I don't believe it gets the attention it deserves, and as a result it doesn't get fixed like it should," Jeff Williams, Apple's senior vice president of operations, told Bloomberg.
Apple said it decided to name Guangdong Real Faith Pingzhou Electronics and labor agency Shenzhen Quanshun Human Resources Developing Co. in order to highlight the problem. "Most companies, they either don't report on it at all, or they say they look for it and found none, or they obscure the data in some way," Williams added. "If they're not finding it, they're not looking hard enough."
The announcement was made through Apple's latest Supplier Responsibility Report, which provides updates on worker protections and factory conditions at its many manufacturing partners. Apple has lately faced much criticism for its partners' alleged flouting of basic labor rules, including poor wages and cramped living conditions for workers. The spotlight has been fixed even more firmly on Apple since 2010, after reports of suicides at its main manufacturer, Foxconn.
The iPhone maker announced last year that it was stepping up audits of working conditions at all its major manufacturers. It also agreed to separate audits by the independent Fair Labor Association.
The latest Apple report included 339 audits through the company's supply chain for a 72 percent increase over its 2011 report. Apple also said it had increased supplier compliance with a maximum 60-hour workweek to 92 percent suppliers and taken remedial steps at facilities not paying proper overtime wages. Cases of "bonded labor" and discriminatory practices against women workers had also been stopped.
Here's how Apple rounded out a rough, volatile trading week: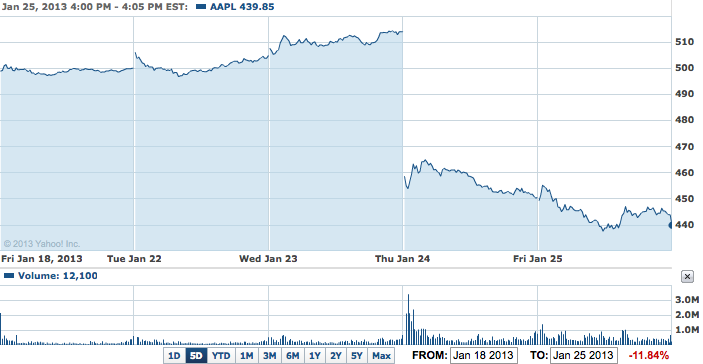 Don't Miss: Will These Catalysts Save Apple?