Is Apple In Trouble for Banning This App?
When Apple (NASDAQ:AAPL) banned a previously allowed app from its App Store, the company may have upset the wrong company; the app maker has started a petition that won't look good for Apple.
The app in question is called AppGratis, and it helps users discover free apps for their iOS devices. AppGratis was approved for the iPhone late in 2012 and for the iPad a few weeks ago, but Apple has since changed its mind and pull the app down for violation of several App Store guidelines.
AppGratis had initially had some trouble meeting guidelines set by Apple, but the developer managed to work those out in order to gain the approval need to be included in the App Store in the first place. Apparently, the app was taken down over violations of guideline 2.25 and guideline 5.6.
Guideline 2.25 states that "Apps that display Apps other than your own for purchase or promotion in a manner similar to or confusing with the App Store will be rejected." Guideline 5.6 mandates that "Apps cannot use Push Notifications to send advertising, promotions, or direct marketing of any kind."…
AppGratis seemed baffled as to why it was getting in trouble over these guidelines. Its developers had previously worked out issues over guideline 2.25 in order to be approved initially, and it claimed to have followed Apple's suggestions on just how to use push-notifications — even going as far as to make the push-notifications an opt-in service.
The company has been unable to communicate with Apple to resolve the issue, and has resorted to a petition, which has already bee signed by more than half a million people since it was started early on Monday. The French company received $13.5 million in venture capital to help its app get off the ground, and it doesn't show any sign of giving up. Its petition method gave it a solid database of email addresses to communicate with those that like its app later if it can't regain its spot in Apple's App Store. This could also make some trouble for Apple, as the app had more than 12 million users when it was pulled down, and those users may now be upset with Apple.
Here's how Apple (NASDAQ:AAPL) traded Monday: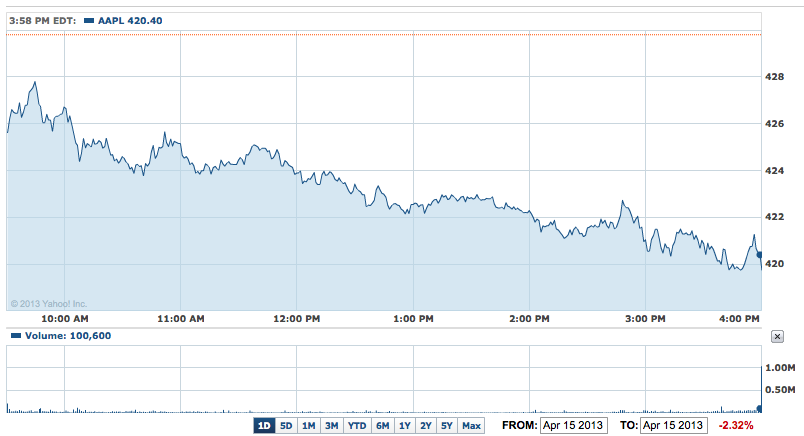 Don't Miss: Why Did Apple Ban AppGratis?