Is Apple Losing the Tablet Market?
Will Apple (NASDAQ:AAPL), the company that established the tablet market in 2010, soon lose its market dominance to upstart competitors? According to the IDC's latest statistics, Apple's share of the tablet market dropped to 39.6 percent from 58.1 percent it held in the same quarter last year. Apple was the only tablet maker that saw its market share decline since the first quarter of 2012.
Samsung (SSNLF.PK), which increased its market share from 11.3 percent to 17.9 percent, held onto the second place with 8.8 million shipments in the first quarter of 2013. Asus was a distant third with 2.7 million units shipped. However, Asus also saw the most year-over-year growth of all the top five tablet makers at 350 percent, due to the fact that it only shipped 600,000 units in the first quarter of 2012.
Amazon (NASDAQ:AMZN), the maker of the Kindle Fire tablet, came in fourth with 1.8 million units shipped. Finally, Microsoft (NASDAQ:MSFT), which has been trying to break into the tablet market with its Surface device, reported shipments of only 900,000.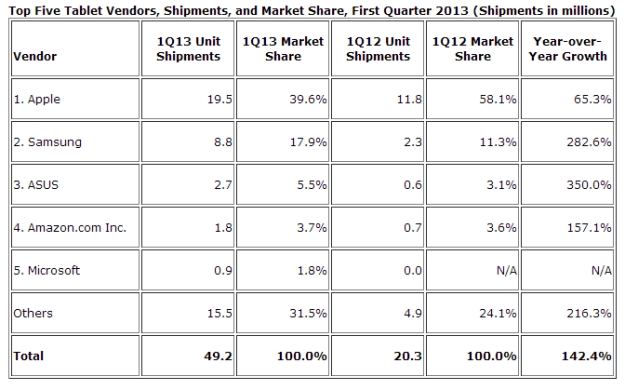 Meanwhile, the overall growth of the tablet market vigorously continued in the first quarter of 2013, as shipments of all tablets jumped to 49.2 million in a year-over-year growth spurt of 142.4 percent. This would explain how Apple was able to increase its iPad shipments from 11.8 million in last year's quarter to 19.5 million in this year's quarter, while simultaneously seeing its overall market share decrease.
In contrast to Apple's market shrinkage, Samsung saw 282.6 percent year-over-year growth in its share of the tablet market. However, despite Samsung's astonishing shipment increase, Apple still shipped more than double the number of tablets than the South Korea-based manufacturer did in the first quarter of 2013.
Despite Apple's overall decline in tablet market share, the Cupertino-based company posted better-than-expected shipment numbers. Tom Mainelli, Research Director for Tablets at IDC notes that "sustained demand for the iPad mini and increasingly strong commercial shipments led to a better-than expected first quarter for Apple."
Here's how Apple has traded over the past six months: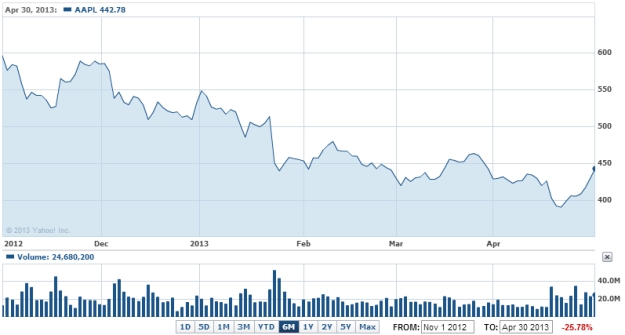 Don't Miss: Here's How Apple Went From Junk To Bond Champion.