Is Apple Making Bonds Sexy?
Did Apple's (NASDAQ:AAPL) record-breaking $17 billion bond deal this week revitalize the stagnant world of bond trading? Some analysts believe that Apple's unprecedented bond offering was just what the electronic bond-trading system needed to boost its development.
Peter Tchir of TF Market Advisors is one researcher who thinks that the enormous volume of trading that Apple's bond deal entailed is exactly what bond dealers have needed.  Via Bloomberg, Tchir wrote that the Cupertino-based company's debt issuance could "turn out to be a watershed moment in the world of bond trading." Apple's bond deal accounted for 3.8 percent of the total amount of trading done on Thursday, according to statistics provided by the Financial Industry Regulatory Authority.
Furthermore, Tchir believes that Apple has "solved the problem of too small fragmented issues, at the exact time the dealer community is struggling to provide true liquidity." Now that Apple has injected such a large amount of bonds into the market, it may become possible for Apple to become one of the "first real electronically traded bond[s]."
Goldman Sachs (NYSE:GS), Morgan Stanley (NYSE:MS), UBS AG (NYSE:UBS), and Fidelity Investments are all in the process of fine-tuning their associated electronic bond trading systems. Electronic trading systems run by firms such as MarketAxess Holdings (NASDAQ:MKTX) are already interrupting the revenue stream that traditional securities dealers make on their deals. The upside of electronic trading platforms is that they can save dealers money in overhead costs, as well as perform trades more efficiently.
Although bond dealers will be kept busy for a while thanks to Apple's huge corporate-bond deal, the overall amount of bonds that corporations hold at any given time has been reduced due to provisions of the Dodd-Frank Act.
Here's how Apple has traded throughout the past week.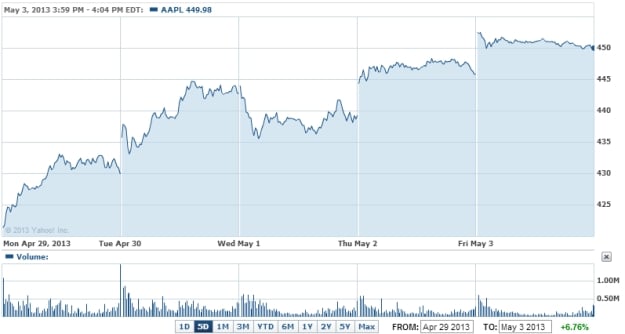 Don't Miss: Apple's Working On Scaling the Android Mountain.