Is Apple Plotting a Complete Redesign?
Apple (NASDAQ:AAPL) may be headed for a complete overhaul of its user interface design as Scott Forstall's software legacy starts making way for newer things. With the company's celebrated designer Jony Ive newly in charge of both product industrial and user experience, Apple may be planning an iOS and OS X interface revamp, according to a report in Wired.
Forstall, Apple's former software chief, left last October in one of the company's biggest shakeups in history. In addition, Craig Federighi, formerly the head of Mac software engineering, was put in charge of both the iOS and OS X development teams.
According to the Wired report, Apple was currently in the process of looking for senior software engineers for its iLife suite, and the job opening did not make it sound like the company was seeking a simple facelift. Apple had also advertised for engineers to create new APIs and frameworks for iOS. In addition, the company has already been reported to be looking for someone to create a character and personality for its Siri personal assistant software.
Gartner analyst Brian Blau agreed with the assumption that an overhaul was impending. "I don't think Apple will ever stop refining their OS's and interfaces, and with Jony Ive at the helm we should expect to see improvements," Blau told Wired.
However, Blau added that the "timing [was] anyone's guess" and that a redesign like that was likely to take a long time.
"Updates to major portions of the user interfaces aren't easy," he said. "They don't want to break what is effective today nor can they break how their developers integrate with the platform. Yet, maybe there are additional features and functions that would offer more flexibility, usability and performance within the context of supporting the large library of third-party apps."
As the report pointed out, both OS X and iOS have remained largely unchanged since their respective launches in 2001 and 2007, with most upgrades being evolutionary instead of revolutionary. With Apple facing questions of design fatigue, now will be as good a time as any to bring about radical upgrades — in the software as well as the hardware.
Here's how Apple traded Monday among a tough market storm of trading activity: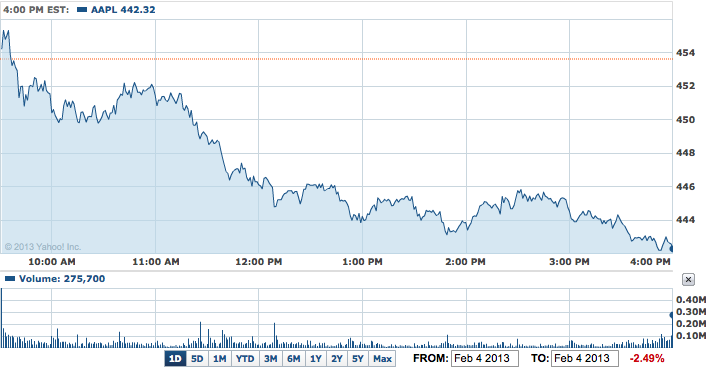 Don't Miss: Bill Gunderson: Stay Away From Apple!