Is Apple's Full-Size iPad Shrinking?
It seems that one of Apple's (NASDAQ:AAPL) next key improvements for the iPad is going to be its size. It won't be smaller in terms of screen dimensions — that's the iPad mini — but it could be smaller in other ways.
Apple's 9.7-inch iPads haven't been getting smaller since the iPad 2. Actually, the iPad 3 and current iPad were both bigger than the iPad 2. But, according to KGI Securities analyst Ming-Chi Kuo, the iPad 5 should be 25 percent lighter and 15 percent thinner.
Shrinking technology has always been a popular trend — often seen as one of the two options when moving forward with technological devices, with the other option being major increases in capability. Apple's iPhones and iPads are already accomplishments considering they are computers with very small form factors…
But, now that Apple has its slew of devices already launched, it can be a bit trickier for the company to decide what direction to take each device when it updates them. Technological spec upgrades are always common with device updates, but size changes can be just as important.
According to Kuo, the iPad 5 should be getting a little bit of both. The increased slimness of the device is expected to be the result of a new screen technology that will require less power, allowing for an additional decrease in battery size and leaving the device weighing in at 500 grams. On the technological end, the device is expected to come with a new A7-series processor with better efficiency and processing power. The devices cameras aren't expected to change from the iPad 4.
Kuo believes that the iPad 3 and 4 didn't sell as well as they could have because they were both bigger and heavier than the iPad 2. Finally reducing size could turn modest sales around. Kuo thinks the production could kick up in July or August, with shipments beginning in August or September, and with shipments reaching 15 million within the year. He also holds that the next iPad mini could make up 60 to 65 percent of iPad sales after its release in the second half of 2013.
Here's how Apple (NASDAQ:AAPL) traded Thursday: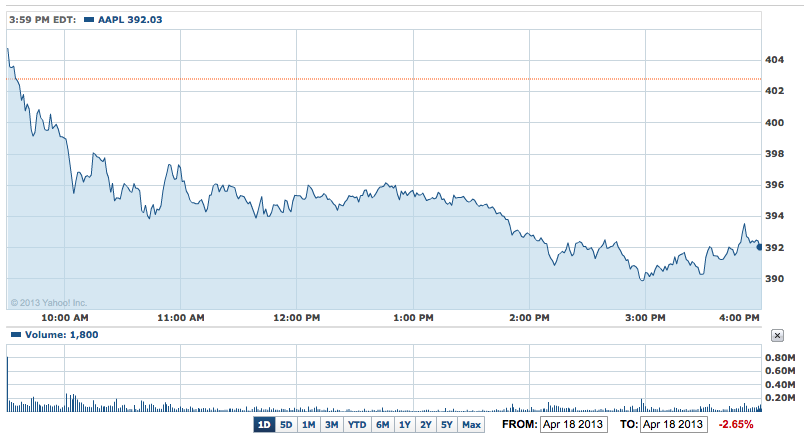 Don't Miss: What Are Amazons Plans For Apples Siri Look-Alike?