Is Apple's iOS Open to Attacks?
Will Apple's (NASDAQ:AAPL) iPhone be the next major target of malicious hacker attacks? Although Apple's mobile platform accounts for only 0.7 percent of all malware, it is surprisingly vulnerable to hacker attacks, reports internet security company F-Secure via Forbes. In contrast to Apple's low malware percentage, Google's (NASDAQ:GOOG) Android mobile platform is the target for 79 percent of existing mobile malware.
Android is particularly vulnerable, since there is a large number of unregulated third-party apps which can easily be converted into malicious attacks. However, Apple's numbers may soon climb in the coming years.
Due to Apple's tight regulation of apps that are used with its mobile devices, hackers have been forced to probe the iOS operating system itself for vulnerabilities. Unfortunately, they have discovered a significant number of loopholes in iOS.
SourceFire (NASDAQ:FIRE), a cybersecurity company, examined Common Vulnerabilities and Exposures data and discovered that Apple's iOS had over 200 documented vulnerabilities, reports ZDNet. This gives Apple's smartphone "81 percent of the mobile phone vulnerability market share" reports Ellyne Phneah at ZDNet.
Ironically, Apple users' relative lack of experience with malware makes them easier targets. Since "they've been educated to think they cannot get malware," they are more likely to click on a malicious program, points out ICSA Labs researcher Roger Thompson via Forbes.
In another ironic twist, Microsoft's (NASDAQ:MSFT) Windows mobile platform "low number of vulnerabilities could be due to the fact it is not a popular operating system yet" stated a SourceFire senior research engineer via ZDNet.
Apple closed down 2.08 percent at $442.66 on Thursday, at the end of a shortened trading week.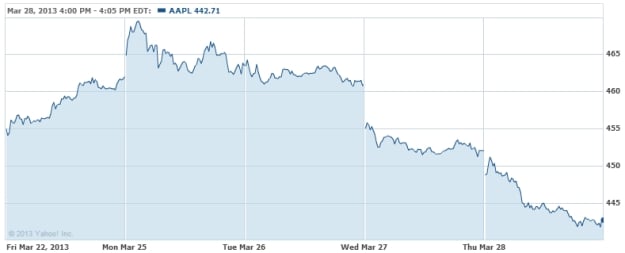 Don't Miss: Are Apple's Struggles in China Just Beginning?