Is Apple's iPad the Real Breadwinner?
When it comes to revenue generation, Apple (NASDAQ:AAPL) may have a real winner on its hands with its line of tablets, which are performing at a surprising rate.
Sales of the iPad may not be matching iPhone sales just yet, but the revenue brought in by the device once it has been purchased could be nearing a turning point, as the tablets have shown a particular knack for drawing out expenditures from users.
According to research by App Annie, the iPhone brought in about 550 million app store downloads in January 2012 and slightly more than 600 million in January 2013. Meanwhile, app store downloads  from iPad users doubled in that same period, increasing from about 100 million to almost 200 million.
The more surprising figure from App Annie was the amount of revenue the iPads generated from the downloads compared to the iPhone. In January 2012, the iPad has less than a fifth the app downloads of the iPhone, but had nearly half the app store revenue. In January 2013, that gap was narrowed, leaving the iPad with just about 30 percent less app store revenue than the iPhone…
The statistics are clearly showing that iPads are managing to pull in more money from each app than the iPhone is. This may result from having more successful, higher-priced apps, or from havng apps that get more in-app purchases.
It's possible that games are playing heavily into this statistic, as more complex games can feature better on the bigger screens of the iPad, and that allows game developers to add more purchasable content at higher prices, which in turn boosts app revenue without boosting app downloads.
With more iPad and iPad mini models to come, it wouldn't be unreasonable to expect the tablets to bring in more app revenue for Apple than the company's flagship smartphones. This should leave the company with one big question: how can it make apps on the iPhone as successful as they are on the iPad?
Here's how Apple (NASDAQ:AAPL) traded on Tuesday: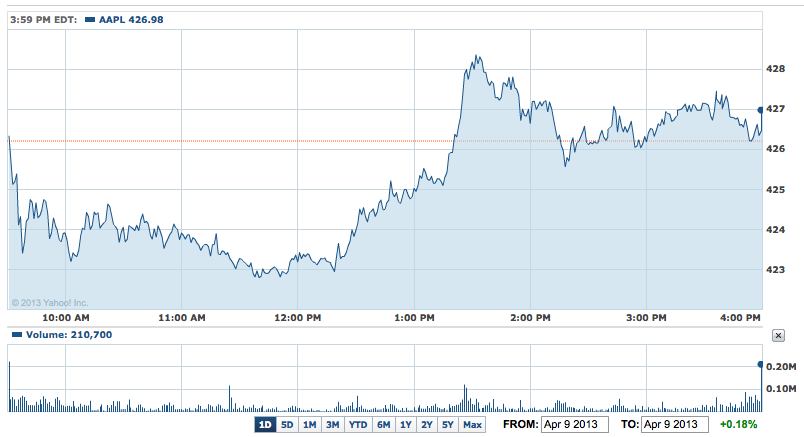 Don't Miss: Has Apple Got a New Mac on the Horizon?