Is Apple's iRadio Almost Dialed In?
Is Apple (NASDAQ:AAPL) on cusp of dominating the internet music streaming business? According to sources via CNET, Apple is on the verge of completing a deal with Warner Music and Universal Music Group, two of the biggest music labels in the industry.
Although earlier reports seemed to indicate that the labels were balking at the reduced per-play streaming rate that Apple was seeking, Apple was able to sway several music labels by offering alternative sources of revenue linked to the streaming service. However, according to CNET's sources, Sony Music Group is not yet on board.
These additional sources of income could include an option that allows users to purchase a song they hear through the streaming service. Apple may also allow the music labels to take a percentage of any advertising revenue that is generated through the music streaming service. This could potentially be a large source of revenue for all parties, especially considering that Apple already has an established base of music listeners from iTunes who could easily segue into new customers for an Apple music streaming service. Apple also has the added attraction of a large, integrated ecosystem of desktop and mobile devices.
CNET reports that Apple will pay a streaming fee that is approximately half of what Pandora currently pays. According to the New York Post, Pandora (NYSE:P) currently pays a fee of 12 cents per 100 songs. The typical industry standard is 21 cents per 100 songs…
Although there is the potential for a significant amount of revenue to be generated from an "iRadio" service, there are also many unknown factors, such as how many people will actually choose to purchase songs that they hear through the music streaming service. Because of this uncertainty, the record labels are seeking "between 35 percent and 45 percent" of any ad revenue, according to CNET's sources.
Already dubbed "iRadio" by the media, Apple's new music streaming service will reportedly be starting up in multiple markets by this summer.
Apple moved down 0.75 percent at $424.50 in pre-market trading on Friday morning.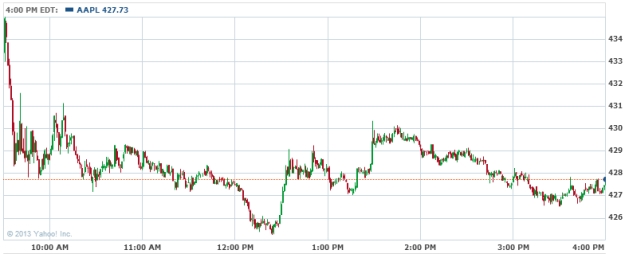 Don't Miss: Here's What Apple Is Spending $5 Billion On, and It's Not a Dividend.