Is Apple's Patent Rejection Good News for Samsung?
Did the United States Patent and Trademark Office just hand Samsung (SSNLF.PK) more ammunition in the company's patent-infringement battle against Apple (NASDAQ:AAPL)? The USPTO has issued a preliminary rejection of an Apple patent that covers a method for displaying translucent images over a base image.
This decision could negatively affect Apple's ongoing legal battle with the South Korea-based smartphone maker. In April, the United States International Trade Commission ruled that Samsung had violated this particular patent by incorporating translucent buttons and a text selection feature into its Android-powered devices. Samsung has already forwarded the news of the USPTO's decision to the ITC, reports FOSS Patents.
Apple's patent, which is titled "Method and apparatus for providing translucent images on a computer display," was rejected by the USPTO based on certain claims which it found to be anticipated or obvious. The USPTO based part of its rejection argument on the existence of a patent from 1996 which covered a similar method for displaying a translucent keyboard on touchscreen displays.
However, it should be noted that the USPTO's preliminary rejection is not the final word on this patent application. Subsequent reevaluation of the patent claims could prompt the USPTO to reverse its initial decision. However, no matter what the final outcome of the process is, Samsung will be sure to use this initial decision to its full advantage as it prepares for the second upcoming patent-infringement trial scheduled to begin March 2014 in California.
Apple was originally awarded $1.05 billion in damages in the August 2012 trial against Samsung. However, U.S. District Judge Lucy Koh reduced the original award amount by $450 million after citing the jury's use of an "impermissible legal theory."
Apple shares closed down 0.83 percent at $452.97 on Friday after shedding $3.80 from its price at the opening bell. Here's how Apple has traded so far over the past week.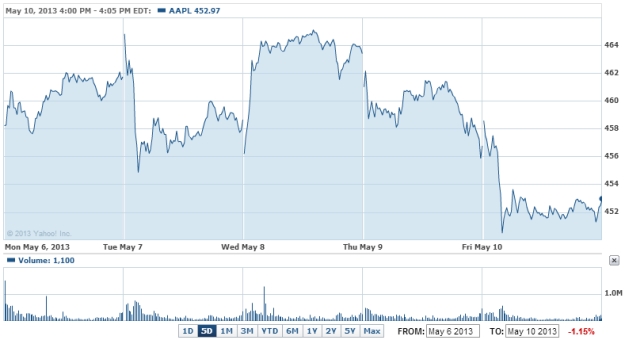 Don't Miss: Despite Bonds, Apple Was 'Biggest Loser' For Greenlight Q1.