Is Coffee With Apple's CEO Worth $3.6 Million?
Apple (NASDAQ:AAPL) is showing a lot of faces right now. It's showing some of its vulnerability, it's showing some of its care for investors, and it might even be showing off Tim Cook's face — for a price.
Apple's second-quarter results managed to beat Wall Street consensus expectations slightly. That helped keep the stock from slipping any further than it already has over the past few months. Two announcements the company made during its earnings call that might have helped were its plan to increase the dividend by 15 percent and up its share buyback program to $60 billion.
One thing that has not been helping the company's stock is the lack of new products. The iPhone 5 and iPad Mini might still be hot, but there are slews of competing products — like Samsung's (SSNLF.PK) Galaxy S 4, which is set to launch April 26. Comparatively, Apple doesn't have anything hot until autumn, at the soonest. Apple Chief Executive Officer Tim Cook said in the earnings call that the company has some new products — even some in new categories — coming out in the fall and throughout 2014, leaving a wide gap of time where competition can eat away at the company…

One extra bit of excitement for Apple fans and investors — or maybe not investors — is the chance to meet up with Cook for a cup of joe at the Apple Campus. In what might be a surprise publicity stunt — the likes of which very few would have ever expected the late Steve Jobs to pull — Cook has set up a charity auction for the opportunity to drink coffee with him.
The Robert F. Kennedy Center issued a press release for the Spring Auction for Human Rights fund-raising campaign, and Tim Cook's name was on it, listed among other celebrities like Robert DeNiro, Carrie Underwood, Peyton Manning, and Jay Leno.
While some celebrities are getting bids up to several thousand dollars, like the $7,500 bid for a meeting with David Letterman, Tim Cook doesn't appear to be just some celebrity. The 52 bids for coffee with Cook have pushed the value up to $180,000, which is a major leap from the opportunity's estimated value of $50,000. Adding to the surprise, the bidding has only been open for a couple days now, and it will continue until May 14. If it kept up the current rate, it would be about $3.6 million by May 14.
What might seem to some like insanity — as no 1-hour coffee break should logically cost $3.6 million, or even $180,000– at least money would be going toward charity.
Here's how shares of Apple finished trading on Thursday: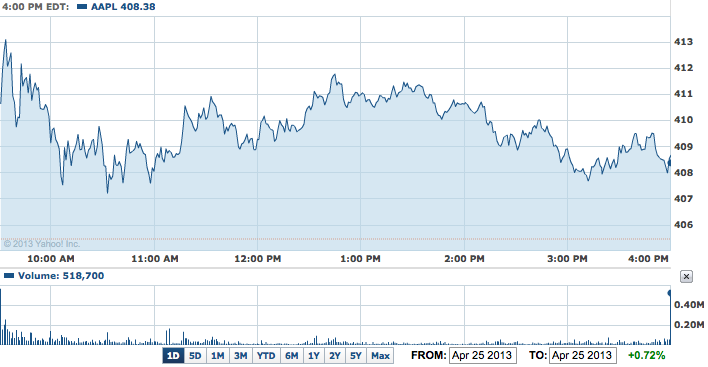 Don't Miss: Is Apple Debt Safer Than U.S. Government Debt?