Is Facebook Winning the Ad Promotion War?
A recent study from media software company Strata, seen by eMarketer, showed that Facebook (NASDAQ:FB) is keeping its place at the top of the ad game among social media sites. The Strata survey was conducted in July and was sent out to executives in the ad industry, asking which social networks they advertise on and how much of their budget typically goes to advertising on social media sites.
Unsurprisingly, Facebook came out on top, with 90 percent of respondents saying they are likely to use Facebook for their clients' social media campaigns. Facebook was followed by Google's (NASDAQ:GOOG) YouTube at 55 percent and microblogging site Twitter at 53 percent. LinkedIn (NYSE:LNKD) came in next, at 35 percent, and Google Plus and Pinterest both had 25 percent.
Those results are fairly predictable, but what was surprising was the number of ad execs that don't believe advertising on social media offers any return on investment. Nineteen percent of respondents said they see little to no ROI with advertising on social media. A quarter of respondents said they believe paid advertising on social media provides a greater ROI than free advertising on the sites, but 11 percent disagreed, saying the free advertising opportunities offered by social media sites provide greater ROI than paid ads.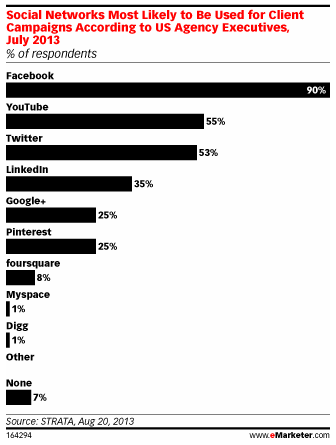 Despite Facebook's monstrous ad revenue, it seems as though advertisers still aren't spending too heavily for paid ads on social media sites. The survey found that 58 percent of respondents said social media campaigns account for 5 percent or less of their clients' total budgets, 42 percent said social media counts for between 6 percent and 25 percent of their clients' budgets, and no one said that social media occupies more than 25 percent of ad budgets.
Advertisers seem unwilling to spend too much on Facebook or other social media sites. The Strata study's findings back up research from a survey conducted by Ad Age and RBC Capital Markets that found that only 10 percent of the advertisers surveyed believe Facebook is a "critical" aspect of their ad efforts. The majority of the survey's respondents weren't incredibly enthusiastic about Facebook's importance to their advertising efforts, with 45.5 percent saying Facebook is a "Useful but still optional part of my strategy" and 43.8 percent saying it's a "Regular element of my strategy."
Facebook may be top dog in the social media world in terms of users and ad dollars, but advertisers as a whole are yet to be convinced to spend heavily on Facebook and other social media sites. And perhaps advertisers are right to be cautious about investing in the medium. While it sometimes seems like the world revolves around the Internet, a recent study from Kantar showed that behind Facebook, the second most popular response to the question of a favorite social media site was "none." Kantar's study found that Americans are more likely to not use social media at all than to have accounts on any of the major sites besides Facebook.
Follow Jacqueline on Twitter @Jacqui_WSCS
Don't Miss: Google Exec Claims Android 'More Secure' Than iOS, Prompts Laughter.