Is Facebook's Business Too Risky For Comfort?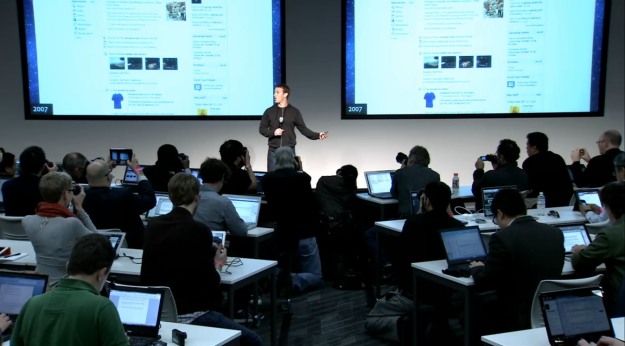 This time around, Facebook (NASDAQ:FB) had quite an answer for the analysts who criticized the company's fourth quarter results. Where mobile advertising only accounted for 23 percent of total advertising revenue last quarter, that figure ballooned to 30 percent in the first quarter — giving investors some measure of proof that it could eventually monetize its mobile platform successfully. But investors and analysts alike were left with one unanswered question: how sustainable is this growth?
Mobile advertising has been a problem at the forefront of the minds of both investors and the company itself ever since the social network debuted on the Nasdaq last May. Even in the past year the company's advertising strategy has evolved significantly. This time last year, when Facebook was still a private company, it did not show one single ad on its mobile platform. But since then — particularly because mobile computing is where technology trends are heading — investors have criticized Facebook for lagging behind the curve. The first quarter's mobile advertising growth has allayed fears that the company would be unable to generate adequate revenues from this area, but problems remain.
In the fourth quarter, Facebook generated 23 percent of its total revenue from mobile advertising, an increase from the previous period's 14 percent. But that growth was not sustainable. Facebook's efforts to launch new advertising services – including those aimed at mobile – had a cost. Its increased focus on advertising contributed to a 79 percent fall in net income, which shrank to $64 million as operating expenses jumped 82 percent. That growth outpaced the company's 40 percent revenue gain.
Facebook's most-recent quarterly results showed that the company took an equally risky road to profitability. During the company's earnings call, Facebook executives reiterated several times that users are spending more time on Facebook than ever before, that advertisers are pouring money into the company, and that the social network is investing in innovative new products like Facebook Home and Graph Search. While advertisers were once satisfied with the company's strategy of targeting people using desktop computers with relatively straightforward advertising that paid by the click, advertisers now want more sophisticated targeting options for mobile users.
In its pursuit of mobile advertising strength, Facebook has redesigned its flagship app and launched numerous new mobile advertising options in the just three quarters. The problem is that the majority of the money Facebook generates from mobile advertising comes from app developers, who pay the social network to promote their apps to the users most likely to be interested in them, based on information the company gathers from browsing histories and friendships. These developers are businesses that often disappear when the now-booming technology sector enters a cyclical downturn.
Facebook did not divulge how much of its mobile advertising is generated by these app makers, but management did brag about its app install business many times throughout the duration of the call, beginning four minutes in. "One of the developments that's been interesting is seeing how big an opportunity mobile apps can be for Facebook," Chief Executive Mark Zuckerberg said. "It's clear now we can create a lot of value for developers… and we're starting to see real revenue through selling mobile app installs." Chief Operating Officer Sheryl Sandberg added that mobile app installs "performed very well this quarter," prompting 25 million downloads and accounting for 40 percent of the top 100 grossing apps in both Apple's (NASDAQ:AAPL) iOS ecosystem and Google's (NASDAQ:GOOG) Android.
"Recently the app install ad product… is showing some real traction," Zuckerberg said again later in the call.
Facebook's methods of selling to large, longtime advertisers is equally precarious as the company's targeting has become much more sophisticated. It was once satisfied with targeting users based on simple data  collection and getting paid mainly when users click ads. But now the company is developing a nexus of information about the activities of its users even when they're not on Facebook — both online and offline — creating customized advertising that is bought through instant-bidding platforms like Facebook Exchange. As Facebook collects more and more user data, the company argues that ads will become more relevant and more profitable, thereby allowing it to be paid per view. But as Facebook constructs this all-knowing ad-based revenue engine, the question remains whether users and advertisers will accept this system.
Don't Miss: Facebook: Profits Arrive From New Mobile Products.