Is Friday's Microsoft Sell-Off a Sign of What's to Come?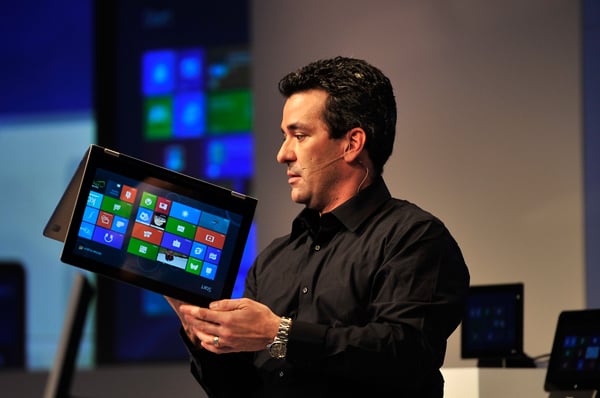 Microsoft (NASDAQ:MSFT) shares plunged 11 percent Friday representing the company's biggest sell-off since 2009. The drop comes one day after Microsoft posted lackluster quarterly results due to weak sales of its newest Windows system and low sales of its Surface tablet.
The quarterly results showed a fourth quarter net income of $5 billion, or 59 cents per share, which included a charge of $900 million, or 7 cents per share, relating to Surface inventory adjustments. The results actually represent an increase of 5 percent from the year-ago quarter, but the impact of lackluster Surface sales caused the company to miss analyst expectations of 75 cents per share.
Amy Hood, Microsoft's Chief Financial Officer, also explained that the current state of the PC market was a factor while pinpointing the silver-lining in the report.
"While our fourth quarter results were impacted by the decline in the PC market, we continue to see strong demand for our enterprise and cloud offerings, resulting in a record unearned revenue balance this quarter," Hood said.
Stockholders, however, evidently weren't nearly as hopeful about Microsoft's future and jumped ship in large fashion. According to Reuters, nearly $34 billion was wiped off of Microsoft's value on Friday, and many onlookers who believed that the company's business customers would carry it through the PC downturn may now have to rethink their assumptions.
The sell-off caused Nomura analyst Rick Sherlund to send a note to clients on Friday in which he provided skepticism regarding Chief Executive Steve Ballmer's plan to restructure the company around devices and services. Ballmer had unveiled the new plan for Microsoft just last week.
"The recent reorganization does not fix the tablet or smartphone problem," Sherlund explained. "The devices opportunity just received a $900 million hardware write-off for Surface RT and investors may not even like the idea of wading deeper into this territory."
Activist investors are expected to pressure Ballmer into a different strategy this summer. Sherlund described the situation as "Everything an activist investor could ask for."
Around Wall Street, price targets and stock ratings plummeted alongside the stock. Brokerage firms Raymond James and Cowen & Co. cut ratings for Microsoft to "market perform" — one notch below where it was before the sell-off on Friday.
Price targets dropped as low as $35, and the stock closed on Friday at $31.02.
FBR Capital Markets analyst David Hilal believes Microsoft's situation is dire. "The key potential growth drivers (Windows 8, Surface) of the Microsoft story appear to be fading, heading into FY14," he said.
Now Microsoft will hope that it's recent slashing of Surface prices, along with the impending release of the Xbox One, can ignite profits once again following its recent missteps. However, it's yet to be seen what exactly the changing PC market will ultimately mean for Microsoft.
Don't Miss: Microsoft's Surface Stomps on 4Q Earnings.