Is Harvard Smart About Apple?
Does this Ivy League research university know something about Apple (NASDAQ:AAPL) stock that we don't? According to Harvard University's latest Securities and Exchange Commission quarterly filing, the school has sold 100 percent of its shares in the Cupertino-based technology company. The Apple shares were valued at $304,000.
Harvard University is known as one of the most prestigious and respected institutions of higher learning in the world. It is also the wealthiest, boasting a total endowment of $30.7 billion, including $1.1 billion in publicly-traded stock. In this sense, $304,000 worth of shares is an inconsequential amount compared to the total amount of Harvard's investments. However, because of its institutional gravitas, the sale has sparked speculation about why Harvard would dump all of its Apple stock.
Although some analysts worry about Apple's long-term prospects in the face of growing competition from phone makers such as Samsung (SSNLF.PK), the California-based company seems to be holding on to its market niche quite well. According to first quarter statistics from the market research firm Canalys, Apple shipped over 37 million smartphones in the last quarter, growing its year-over-year smartphone market share by 6.7 percent.
Apple shares have also seen a recent rally fueled by the announcement of a $55 billion increase to its capital return plan and a subsequent $17 billion bond offering. So why did Harvard University jump ship? Perhaps not even Ivy League schools are immune to the doom and gloom rumors of Apple's imminent demise.
Apple shares closed down 0.83 percent at $452.97 on Friday after shedding $3.80 from its price at the opening bell. Here's how Apple has traded so far over the past week.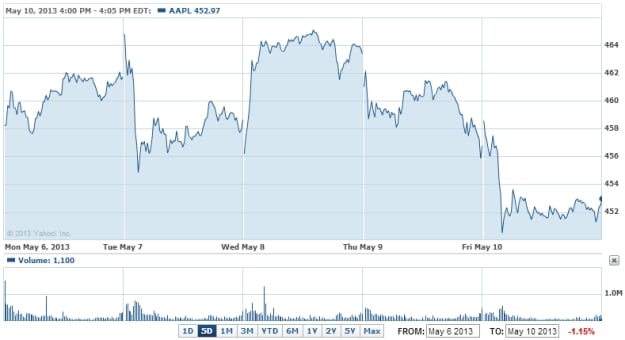 Don't Miss: Apple Is Getting Swamped in These Smart Mobile Stats.