Is Marissa Mayer Bored of Yahoo Shine?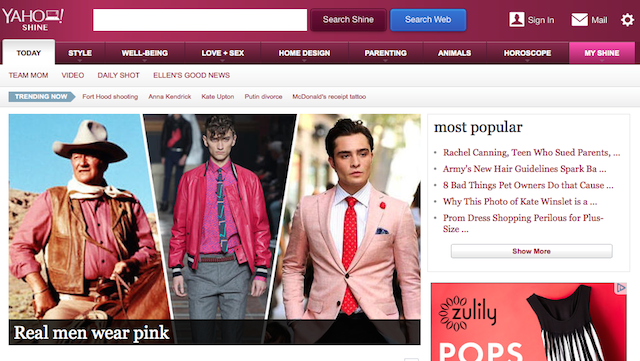 Yahoo's (NASDAQ:YHOO) pink-decorated online hub for women, dubbed "Yahoo Shine," may be getting cut soon according to media reports. Online news site Re/code broke the story. Yahoo has been responding no comment to various media outlets inquiring to see if Re/code's story is onto some big news at Yahoo.
Re/code claims that Yahoo CEO Marissa Mayer is not a fan of Yahoo Shine and would like to see it replaced with a concept more akin to a digital Vogue. Yahoo's lifestyle pages have certainly been shaken up lately with recent changes in staff at Yahoo Food and Yahoo Travel. Mayer announced that Yahoo was in the midst of rebuilding its brand, so changes to Yahoo Shine or eliminating it completely would be in line with that process.
Currently, Yahoo Shine is a portal that focuses on lifestyle news that it considers relevant to women. The verticals are Today, Style, Well-Being, Love+Sex, Home Design, Parenting, Animals, and Horoscope. Much of the content is akin to a women's magazine, but it's definitely not a Vanity Fair or Vogue. It's more mass market than upscale luxury, a flavor that apparently doesn't sit well with Mayer.
Jennifer Romolini, former Editor-in-Chief of Yahoo Lifestyles, which includes Yahoo Shine, recently left Yahoo to be the Editor in Chief/Vice President of Content at HelloGiggles Productions, the parent of HelloGiggles.com, an online women's lifestyle and commentary community page co-founded by actress Zooey Deschanel. It is unclear exactly why she left Yahoo. The tech company has made no comment on her departure.
Yahoo has also been doing some editorial hiring lately. Paula Froelich was hired as Editor-in-Chief of Travel. Josh Wolk was hired to be the Executive Editor of Yahoo Entertainment. Katie Couric was hired as a Global Anchor for Yahoo News. Yahoo also poached David Pogue, a technology columnist. Additionally, Sarah McColl, who previously worked as the managing editor of Yahoo Food, was promoted to Editor-in-Chief of Yahoo Food.  Yahoo Games is in the midst of an overhaul too, so a change or possibly the death of Yahoo Shine would not come as a great surprise.
Re/code's story does not name sources on this news tip, but instead says that many sources close to Mayer confirm that Yahoo Shine will receive the ax at the end of the company's second-quarter. It continues that Shine staffers are looking for new jobs within Yahoo for after its close. The topics covered by Yahoo Shine would then be re-launched in digital magazines with a more upscale flavor than Yahoo Shine. The new Yahoo Food, a mosaic page of multimedia content, is probably a good indicator of what some of these magazines would look like to readers.
As for Yahoo Shine's fate, it'll likely be summer before we know whether or not it'll still be with us in the third-quarter of the fiscal year. Until then, it remains up in its pink bannered glory.
More From Wall St. Cheat Sheet: