Is Microsoft Really Dissing Google and Apple?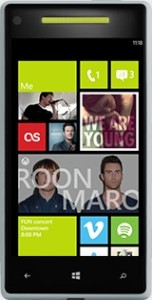 In a move that may soon seem typical of Microsoft (NASDAQ:MSFT), one of the company's top mobile-phone executives dissed Apple (NASDAQ:AAPL) and Google (NASDAQ:GOOG) before lauding Microsoft's own Windows Phone operating system.
Microsoft's vice president of the Windows Phone division, Terry Myerson, described iOS as "boring" and Android as "a mess" at a conference in New York. His criticisms may not be entirely unwarranted. Apple's minimalist style could easily be perceived as boring, and it does lack the flexibility to spice things up with extensive customization. Meanwhile Google's Android is, in fact, plagued by fragmentation because its operating system is so widely customized by hardware manufacturers that it can be almost impossible to get an app working perfectly on all the different variants.
Microsoft has done this kind of bashing before, running a campaign against Google's Gmail in an attempt to promote its own Outlook email service. It's almost a surprise there haven't been more slams against other web browsers in its efforts to revive the popularity of Internet Explorer.
So, Microsoft can talk the talk, but can it walk the walk?
According to Myerson, Windows Phone offers more excitement and a smoother experience than iOS or Android. The home-screens of Windows Phone devices are undeniably colorful, though they may be criticized as being overbearing, or more stylistic than functional, as many users have complained about the new grid system that replaced an old Windows staple — the start menu.
Microsoft also may be able to avoid the fragmentation that it criticized Android for, as it maintains a bit more control over its operating system, which isn't being produced by as many different manufacturers. That said, it simply isn't being produced as much as Android; if it were, it could run into similar problems if manufacturers wanted to differentiate themselves from others with unique versions of Windows Phone.
However, Microsoft managed to increase its share of the smartphone market in the fourth quarter, likely aided by the launch of Windows Phone 8, raising its share of operating system market from 1.5 percent in the year-ago quarter to 2.6 percent in 2012. This market share ranks it behind Android, iOS, and even BlackBerry (NASDAQ:BBRY).
Nokia (NYSE:NOK) is one of the main manufacturers supporting the Windows Phone operating system, though now other companies are jumping on board, such as HTC. As more of the devices become available, it may be easier for Microsoft to gain a bigger share of the smartphone market that has proved to be elusive so far.
Don't Miss: Is Apple In Trouble for Banning This App?