Is Pay-TV's Demise Happening Sooner Rather than Later?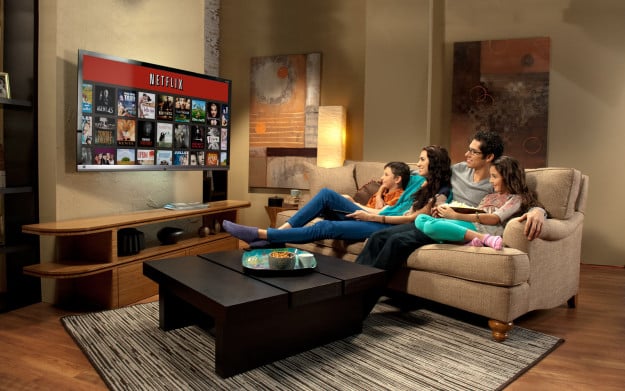 Traditional cable and satellite providers are being served with a wake-up call after second-quarter reports were recently provided to investors. The danger of cord-cutting is very real, evidently to the tune of a 0.3 percent decline in subscribers equal to a loss of 360,000 consumers. "Cord cutting used to be a myth," analyst Craig Moffett said to All Things D."It isn't anymore."
A pay-TV subscriber summary provided by Moffett Research shows just how dire the situation is: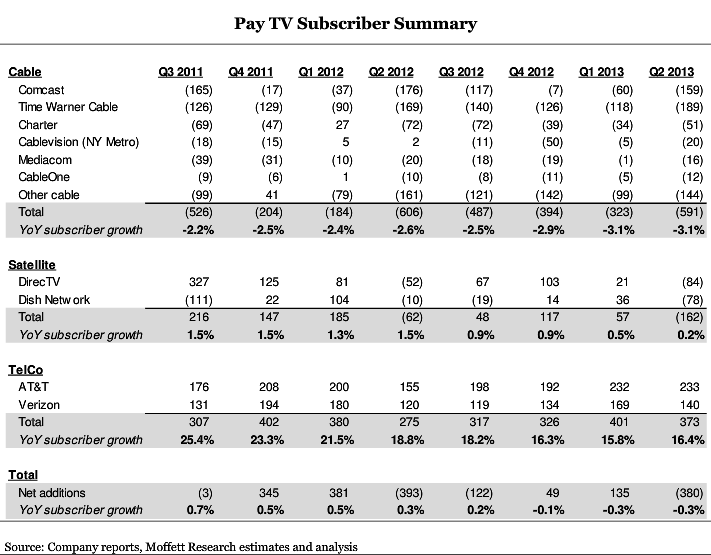 The chart shows that traditional cable growth from companies like Time Warner Cable (NYSE:TWC), Comcast Corp. (NASDAQ:CMCSA), and Charter Communications (NASDAQ:CHTR) have been on the decline for several consecutive quarters, topping out at a 3.1 percent decline the last two quarters.
And while subscriber growth from telecom companies like AT&T (NYSE:T) and Verizon (NYSE:VZ) still show growth, overall subscriber growth has slowed from 25.4 percent in the third quarter of 2011 to 16.4 percent in the most recent quarter.
Satellite subscriptions from companies like DirecTV (NASDAQ:DTV) and Dish Network (NASDAQ:DISH) finished in the middle with anemic 0.2 percent growth, down from 1.5 percent in the year-ago quarter. Altogether, Moffett estimates that the industry has lost a total of 911,000 subscribers in the past year, up from the loss of 258,000 the year before.
Net pay-TV subscriber growth has been pegged at a 0.3 percent decline rate for the past two quarters. A year ago, it was a growth of 0.3 percent. "No, the numbers aren't huge. But they're statistically significant," Moffett said, via All Things D.
The lack of subscriber growth has long been tied to the problematic housing market — if there was no one purchasing or renting homes, there wasn't likely to be many new subscribers. Now that the housing market is on the rebound, that reasoning no longer holds much value. And if traditional cable companies were unconcerned with the movement toward online streaming services like Netflix (NASDAQ:NFLX) and Amazon (NASDAQ:AMZN), it looks like it's time for them to sit up in their seats and take notice.
Looking at a recent study from eMarketer, the picture of just how many customers are moving away from pay TV begins to emerge.
The most significant numbers from this chart show just how common it was for younger age brackets — 18 to 29 year olds and 30 to 44 year olds — to have severed ties with pay-TV. That is just what traditional pay-TV companies don't want: more and more young people deciding to give up pay-TV entirely.
So while the newest reports might have jolted the TV subscription giants out of their apathy, it would appear that it's simply too late — consumers already appear well on their way to a new future when it comes to how they receive their home entertainment.
And with Netflix now in the business of creating original, Emmy award-nominated series like House of Cards and Amazon striking up revolutionary deals with CBS (NYSE:CBS) to air shows like Under the Dome, pay-TV is looking more and more outdated by the day.
Investing Insights: Is CBS Stock a Buy?