Is Samsung Partnering With Oculus Rift to Lead the VR Charge?
If there's a trending tech device, Samsung's (SSNLF.PK) sure to get on board. Or at least that's the way it would seem. Samsung's been putting out devices all across the board in the technology field, and it appears on track to follow along in a new category of devices that has been gaining notoriety, if not traction. According to a source for Engadget, the Korean tech giant has worked out an arrangement with Facebook's (NASDAQ:FB) Oculus to help both finish virtual reality headsets sooner rather than later.
After Apple's (NASDAQ:AAPL) iPhone broke the smartphone category, Samsung wasn't far behind with its powerful and popular line of smartphones. Its tablets also didn't take too long to come out after that. As smartwatches started gaining popularity — though not high sales — Samsung also got on board with the Galaxy Gear and its successors. Samsung's also got laptops, phablets, cameras, TVs, and is even rumored to have an augmented reality headset akin to Google (NASDAQ:GOOG) (NASDAQ:GOOGL) Glass in the works. So, it may come as no surprise that with the Oculus Rift gaining media attention and Sony (NYSE:SNE) announcing that it had Project Morpheus in development — not to mention a number of upstarts working on their own VR competitor devices — Samsung may also be developing a VR headset.
The peculiar bit of the news is that it is working in conjunction with Oculus, as reported by Engadget, though neither company has confirmed their partnership. Of course, considering what both sides are able to bring to the table, it starts to make a bit more sense why they would get involved.
According to the report, Samsung and Oculus both have something to offer each other in order to bring both that much closer to market. Oculus has already developed highly capable software for VR purposes, and Samsung is a lead manufacturer of the high-quality OLED screen technology. And according to Engadget, those are the two things they're planning to exchange.
For Oculus, this would mean a leap forward in screen quality. If Oculus is planning on making the device wireless — which may not be feasible because of the nausea created by input lag in VR — OLED screens would help keep the platform running with lower power consumption. It's also expected to use Samsung screens with resolutions above 1080p.
For Samsung, the deal lets it take a major step forward in the development of a VR headset by skipping the development of software from the ground up. The headset in development is said to run by connecting a Samsung smartphone that actually attaches and uses the device's screen as the VR display. The headset would house movement tracking sensors, and together they would create a VR media device. It would be able to play games, but the focus is reportedly on media consumption, not gaming, according to Engadget.
Rumors about this device have so far been coming through Engadget, so it may not be much more than rumor. However, Samsung does hold a patent for a VR head-mounted display (Seen at the top of this article), but the described device wouldn't use a smartphone for a screen. Instead it opts for two image modules — one for each eye.
If you're interested in VR and AR technologies, you might be interested in our earlier article on Samsung's rumored Glass copy. You can check that out below.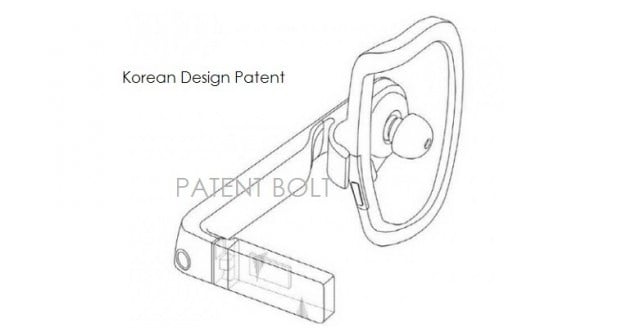 A lot of hubbub has been raised about the possibility that Samsung will be coming out with its own version of smartglasses akin to Google's Glass. What might have been excitement for the hardware power-player to step in the augmented-reality tech field could be something more dramatic, as the expectation is for Samsung's product to cut all ties with Google. The question is whether any of this is true.
Numerous sources have reported on the rumor of "Gear Glass," an augmented reality headset by Samsung that would attach around a user's ear like a wrap-around headphone with an arm that reached around to the front of the user's face with an imaging system just like that seen on Google Glass. Many watchers of Google Glass news have commented on how nice it would be if the device had the form factor of anime cartoon Dragon Ball Z's scanners — and the rumored Glass Gear has close to that design.
The rumor, as reported by Business Korea, is that Samsung is developing the device and aiming for a debut toward the end of summer at the IFA electronics fair in Germany between September 5 and 10. Since Google is said to be aiming for a launch date of Glass by the end of this year, it would appear likely that the Gear Glass could come out before Google's own AR device. Considering Samsung's past relationship as a major purveyor of Google's Android operating system, it might not sound like such a big deal for one to come out before the other, but the relationship between these two companies has been changing as of late.
Though it has only done so on a small scale so far, Samsung has been trying to get a little wiggle room away from Android by employing its own mobile operating system, Tizen. Its latest line of smartwatches, including the Gear 2, are among the first commercial devices running the operating system, and Samsung has plans to expand that into some smartphones for developing markets as well as other interconnected technologies, like TVs. Though the company has expressed the importance of its relationship with Google and Android, Tizen is a way for Samsung to make a few extra bucks from software, as it's been losing out on all the app sales that Google collects on with Android — which has arguably been made more popular by Samsung than any other smartphone manufacturer.
Business Korea received word that Samsung would be pursuing a wearable smartglass device from an unnamed Samsung associate who said, "We rolled out the smartwatch first, and have secured a considerable amount of smart glass-related technology and patents. Following the roll out of our smart watch Galaxy Gear in September last year, we are slated to introduce our smart glass Gear Glass this September." The news source said this Gear Glass would run on Tizen, just like the Gear 2.
Though the fact that Samsung has some patents for smartglass technology does lend some credibility, it's still a questionable rumor. As mentioned earlier, many sources have commented on this story, but Business Korea is inevitably the source where all the information is coming from, and that information is based on an unnamed source. In contrast, Samsung Design America studio head Dennis Miloseski said earlier this year that the company was interested in making devices that didn't turn their users into cyborgs, according to Recode.
Because Samsung has such a close partnership, it seems that if it is going to make a device as similar as the Gear Glass appears to be to Google Glass, it would most likely be doing so in conjunction with Google, and not in opposition.
If you enjoyed my article, follow me on Twitter @WallStMarkSheet and I'll keep you updated with more like it.
More from Wall St. Cheat Sheet: