Is Tesla's Musk Dropping Love Hints To Apple?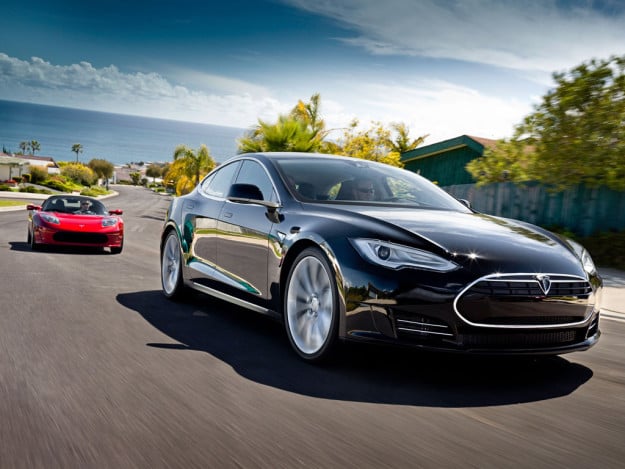 Is Apple (NASDAQ:AAPL) finally going to fulfill its longtime automobile ambitions? If Apple were to buy a car company, it seems that Tesla Motors (NASDAQ:TSLA), the cutting-edge electric car company, would be a perfect fit for Apple. Tesla is breaking new ground with its forward-looking electric car technologies and Apple is a company with a history of radically improving poorly designed content delivery devices in various markets. In many ways, cars are the ultimate content delivery devices since they surround the user with various media devices.
Elon Musk, the CEO of Tesla, recently dropped a coy hint that the Cupertino-based tech giant could be interested in buying the revolutionary car maker. In a recent interview via Bloomberg, Musk noted that "from the perspective of a large [automaker], Tesla just seems very expensive. How many cars do we make? What's our market cap? It seems nutty to them."
However, when pressed about a possible purchase by Apple, Musk responded, "They do have a lot of cash. I'd guess it would come from outside the auto industry. It would be a buyer with a very large cash position." Apple has approximately $145 billion in its cash hoard, although it recently issued $17 billion in bonds.
However, such a move couldn't happen until Tesla repays its $465 million loan from the U.S. Energy Department. Tesla is currently on track to repay the government by December 2017, 5 years earlier than its original repayment schedule.
In the meantime, Tesla is working on gearing up for the mass production of its Model X vehicle. Tesla is also working on developing an electric vehicle in the $30,000 price range, which would make it a more viable car option for the mainstream public.
Many Apple aficionados may have forgotten one of Steve Jobs' least discussed but most ambitious product ideas. Steve Jobs wanted to build an Apple iCar. Apple has already delved into the automobile world by teaming up with Volkswagen to create the iPhone-compatible iBeetle which will debut in 2014. Apple has also patented several car-related technologies, including a method for locating and unlocking your parked car using the iPhone's Bluetooth-enabled capabilities.
Here's how Apple and Tesla stock has traded so far this week.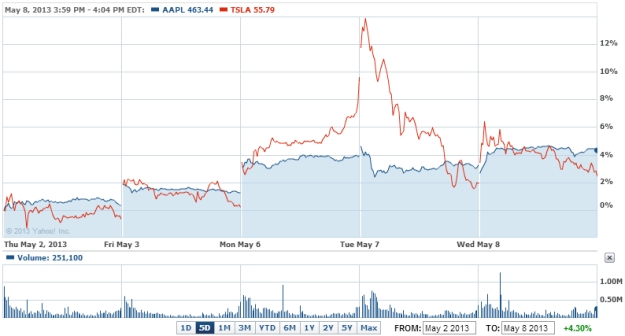 Don't Miss: Will Apple's iPads Make Flying Cheaper?