Is the iPhone 5S Almost Here?
Is a rumored display production increase at one of Apple's (NASDAQ:AAPL) component suppliers a sign of the imminent release of the iPhone 5S? Japanese component maker Sharp will be ramping up production of displays for Apple's next iteration of iPhone according to a report from Nikkan Kogyo Shimbun, via Apple Insider. Nikkan Kogyo Shimbun is one of Japan's leading daily newspapers that specialize in business and technology news.
The report identifies Sharp's Kameyama Plant No. 1 in Japan's Mie Prefecture as the production facility where the displays will be made. Although this plant has the capacity to produce 600 million display units per month, it has not been fully utilized since last year when production dropped to approximately 240 million units per month.
Several months ago, Apple's smartphone rival Samsung (SSNLF.PK) made a $112 million investment in Sharp which some observers felt might threaten Apple's supply chain. However, Samsung's negligible 3 percent stake in Sharp doesn't give it much leverage over the company. Foxconn, which is one of Apple's biggest suppliers, also has a stake in the Japanese electronics company.
Apple's next generation of iPhone is expected to retain the same type of display that the current iPhone 5 utilizes. However, there have been unsubstantiated reports that the next iPhone will feature a fingerprint sensor and upgraded system on a chip. Last summer Apple bought AuthenTec, a mobile and network security company and some observers believe Apple was primarily interested in acquiring AuthenTec's patented fingerprint sensor technology.
Besides Apple's expected iPhone 5S upgrade, other speculation has centered on the possible debut of a low to mid-range price iPhone. A low-cost iPhone would give Apple an increased chance of penetrating emerging markets such as India and China.
Here's how Apple has traded so far this week.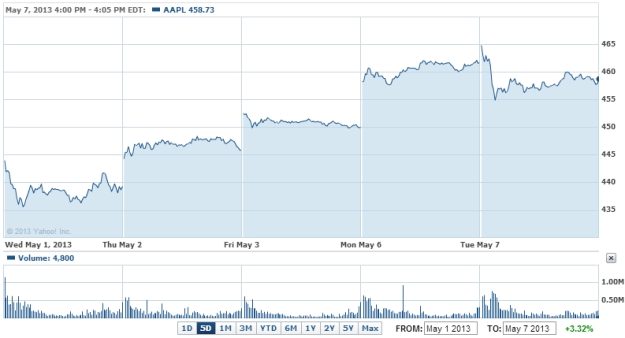 Don't Miss: Apple Under Continued Fire For Privacy Violations.