Is the iPhone Expanding Models and Colors?
Many analysts have already suggested that Apple's (NASDAQ:AAPL) smartphone market share could be exponentially increased if the company released a cheaper version of its iPhone. However, could the iPhone also benefit from a splash of color? Ken Segall, the former Apple branding consultant who created one of the company's most iconic ad campaigns, believes that the iPhone maker is losing the battle for the hearts and minds of smartphone users by not giving its flagship device a color makeover.
Via his blog, Segall notes that multiple color options are already available for various iPod models, and adds that he believes it is time that the iPhone got a similar color upgrade. However, Segall is not simply advising that a superficial paint job will jumpstart sales of the iPhone. He believes that offering a color choice along with a low-cost iPhone and "phablet" iPhone version could give the Cupertino-based company a big boost in sales and reputation. "Phablets" are the phone-tablet hybrids that are especially popular in Asian markets. Segall has already dubbed his larger, hypothetical iPhone the "iPhone Max."
Although Segall believes his former employer is still on the cutting-edge of innovation, he also believes that Apple is developing a reputation for being less innovative than Samsung (SSNLF.PK). Samsung offers handsets in all sorts of various sizes and price ranges, which gives the South Korean phone maker a more widespread appeal.
"The smartphone audience has grown exponentially in recent years. The simple reality is that different people have different needs. Creating a family of devices would widen iPhone's appeal as it squelches the perception that Apple is somehow losing touch," concludes Segall on his Observatory blog.
If the latest industry rumors are to be believed, Apple may already be taking Segall's advice on a cheaper iPhone. According to Morgan Stanley's (NYSE:MS) Katy Huberty, Apple will begin production of a low-cost iPhone in June or July. Via a note given to Apple Insider, Huberty stated her belief that this new low-cost iPhone will increase Apple's sales in China.
This isn't the first time that Segall has offered his unsolicited branding expertise to his former employer. Back in April, Segall argued that Apple should drop the "S" identifier off its iPhones since it creates a "perceived lack of innovation" in the product upgrades.
Here's how Apple has traded so far this week: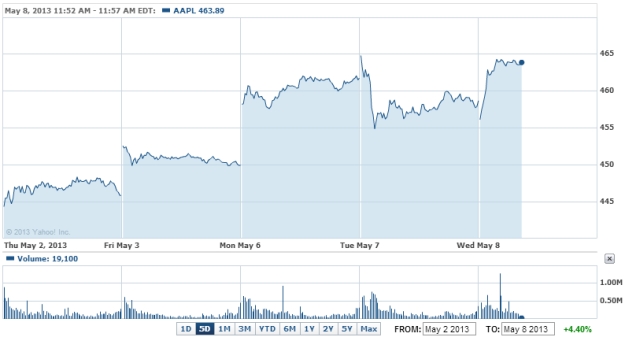 Don't Miss: The iPhone's New Invisibility Ability.