Is the Next iPad Shedding Weight?
Here's a sure sign of how far science and technology have progressed: the last two generations of Apple's (NASDAQ:AAPL) iPad will be considered "hefty" and "bulky" compared to the next generation, according to CNET. It wasn't long ago that a computer capable of the power output of the iPad sat in a box on the floor and required a monitor about the size of a microwave — and all that would have cost you three times as much.
If your biggest complaint about the last iPad generations was that it was too thick and too heavy, the upcoming iPad 5 should address those concerns. According to a report by Digitimes, the next generation should begin production around the July timeframe, and the new 9.7-inch tablet will be from 25 percent to 33 percent lighter than its predecessor, with a thinner bezel similar to the Mini variant.
The 2,048×1,536 pixel-density Retina display will use thinner glass to contribute to the weight savings, courtesy of new touch-sensor technology. The backlight equipment has also been fiddled with, saving some weight and heft there, too. However, the third and fourth generation iPads actually put on mass over the the iPad 2, largely associated with the Retina display gear.
NPD DisplaySearch told CNET last month that "part of the thinner/lighter design will be reducing the size of the LED backlight, partly by making the display more efficient, and partly by using more efficient LEDs." DisplaySearch also cited the likely shift to a "a film-based touch sensor."
Digitimes is expecting monthly iPad shipments to increase to 2 million to 3 million units for the fifth generation by September, according to sources in the supply chain. Analyst Ming-Chi Kuo from KGI Securities believes that Apple must issue the next iPad as soon as it can muster, in order to maintain its lead in the tablet category. Microsoft's (NASDAQ:MSFT) Surface tablet nabbed 7.5 percent of the tablet market in less than six months, and with a more affordable variation on the way, the Windows-based device poses a larger threat.
While Apple has historically used Spring events to reveal fresh iPads, the company has been uncharacteristically quiet this year, allowing analysts to feel around in the dark as speculations run rampant. Two prominent analysts Brian White and Gene Munster, among others, both incorrectly predicted an iPad 5 release in March or April, and now over halfway through May, no one has heard a peep.
Here's how Apple (NASDAQ:AAPL) traded Tuesday: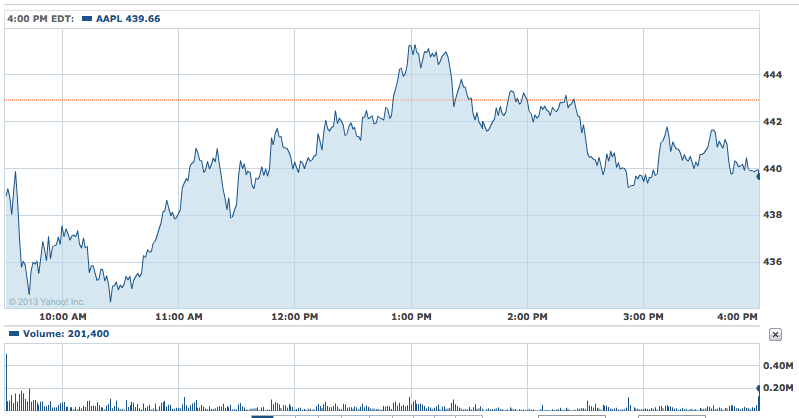 Don't Miss: How Should Investors Feel About Stagnant Mac Sales?