Is This Apple Supplier Hiring for a New iPhone?
Does this Taiwan-based Apple (NASDAQ:AAPL) supplier's recent hiring announcement point to the upcoming release of a low-cost iPhone? The Pegatron Corporation is a manufacturer that makes various devices for Apple, including the iPad mini. The Taipei-based company recently announced that it would be increasing its workforce by approximately 40 percent for the second half of 2013 and that 60 percent of the company's annual revenue would come from the same time period.
Is Apple now a once-in-a-decade buying opportunity? Click here to get your 24-page Ultimate Cheat Sheet to Apple's Stock now!
Since Apple CEO Tim Cook announced last month that Apple would be unveiling "exciting new product categories" through the fall and 2014, some Apple analysts have speculated that one of these products may be a cheaper iPhone. Various Apple pundits and commentators have long been calling for the Cupertino-based company to release a low-cost iPhone in order to secure a larger slice of the low-cost smartphone market.
Could Pegatron's recent hiring bonanza be related to the production of a low-cost iPhone? Pegatron CFO Charles Lin refused to confirm or deny the rumors. However, CEO Jason Cheng confirmed that 40 percent of total revenue in the second half of the year would be derived from communication product orders. Obviously a low-cost iPhone would fall into this category.
Fubon Securities analyst Arthur Liao seemed even more certain, stating via Reuters that "making the cheaper iPhone will further help Pegatron's operating margin because its plastic casing is easier to make than iPhone 5′s metal casing; this should ensure a good yield rate."
Morgan Stanley (NYSE:MS) analyst Katy Huberty also seems to believe that a low-cost iPhone is in the works. Via a note to investors, Huberty wrote that "the iPhone Mini adds incremental revenue and gross profit dollars" and could potentially grow Apple's smartphone market share in China to 30 percent from the 10 percent that it currently holds.
Historically, Pegatron's fortunes seem to be tightly tethered to Apple's product orders. Pegatron recently warned investors that its second quarter revenue is expected to drop 25 to 30 percent compared to the previous quarter. This recent drop was attributed to the falling demand for Apple's iPad mini, as well as the overall drop in consumer electronics demand. Although Pegatron gets a significant amount of its business from Apple, it also makes the Surface tablet for Microsoft (NASDAQ:MSFT).
NEW! Discover a new stock idea each week for less than the cost of 1 trade. CLICK HERE for your Weekly Stock Cheat Sheets NOW!
Here's how Apple stock has traded so far this week.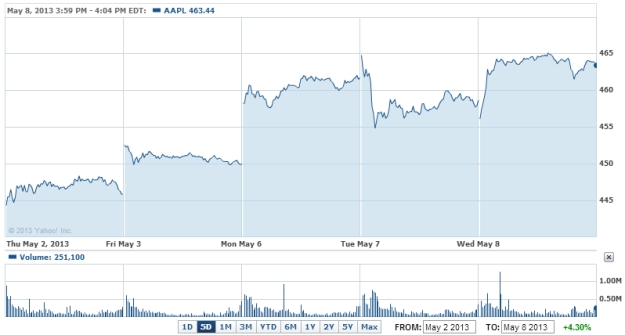 Don't Miss: Will Apple's iPads Make Flying Cheaper?