Is This the Definite iPhone 5S Launch Date?
Has the elusive launch date for the next iteration of the iPhone finally been nailed down? According to a confidential source via TechCrunch, the iPhone 5S will be launched sometime in June 2013.
The leak originated from a "presentation catalog" from an unnamed "Shenzhen-based manufacturer" that is making various peripheral products for Apple's (NASDAQ:AAPL) latest incarnation of the iPhone. According to John Biggs at TechCrunch, the presentation catalog from this Chinese manufacturer provides many interesting details for various iPhone 5S accessories, including dongles and wireless chargers that are based on the Qi inductive power standard. The anonymous manufacturer also mentions cases for the new iPhone.
Although this anonymous manufacturer supposedly has "direct cooperation" with Foxconn, TechCrunch warns that this latest iPhone 5S rumor could very well be a typical case of "careless boasting." However, several factors make this particular iPhone rumor stand out from the usual tech gossip.
First, the manufacturer seems certain enough to provide a firm launch date of June 2013, rather than a broader window of several months. Secondly, the source that TechCrunch is basing this report on has "direct contact to a certified manufacturer," as opposed to the usual second or third-hand hearsay. Finally,as stated earlier, the unnamed manufacturer supposedly works in tandem with Foxconn. Foxconn has been a longtime manufacturer for various Apple components and would presumably be one company that would have knowledge of a definite iPhone 5S launch date.
This latest Apple iPhone 5S rumor is also in line with earlier rumors that have predicted a summer launch date for the iPhone 5S release. TechCrunch also notes that this latest rumor is part of a greater trend of more openness from Apple's manufacturers in a "post-Steve Jobs" world.
Apple closed down 2.08 percent at $442.66 on Thursday.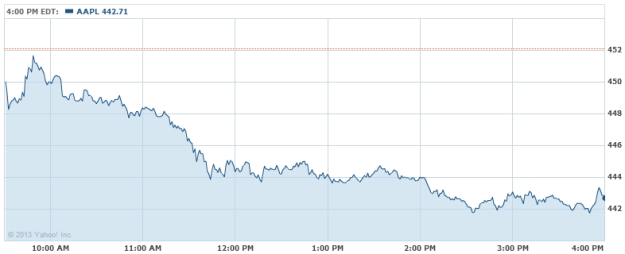 Don't Miss: Apple Beats Samsung at Social.