Is This the iPad's Newest Competitor?
Apple's (NASDAQ:AAPL) iPad will possibly face more competition in the large tablet market as Blackberry (NASDAQ:BBRY) appears to be gearing up for a release of its own tablet device. According to a leaked roadmap document, Blackberry may be planning a late 2013 release for a device tentatively named the B10, reports TechnoBuffalo.
Is Apple now a once-in-a-decade buying opportunity? Click here to get your 24-page Ultimate Cheat Sheet to Apple's Stock now!
Although the leaked internal document gives no specific dimensions, it appears to have a 9 to 11-inch size screen. This would make the Blackberry B10 a direct market competitor to Apple's full-size iPad.
Blackberry would have a long way to go to take any significant market share from Apple however, since iPad devices account for over 80 percent of the total North American market, according to Chitika statistics via Apple Insider. Apple's current closest competitor is the Amazon (NASDAQ:AMZN) Kindle Fire, which accounts for 8 percent of total  tablet usage share.
Blackberry's last attempt to penetrate the tablet market was not very successful. In April 2011, Blackberry released the PlayBook tablet to mixed reviews. Blackberry eventually slashed the price of the device to help move it off store shelves, costing the company $485 million.
Regarding a potential challenge to Apple's iPad, Blackberry CEO Thorsten Heins told the Australian Financial Review, "Kudos to Apple, I think they really managed to own that space, so it doesn't make sense for me to just take this head on. I need to figure out, for my enterprise customers, for my consumers, for my BB10 audience, what can I do that provides them a mobile computing experience in the form factor of a tablet, which goes beyond just the puristic tablet experience," reports Apple Insider.
Research in Motion Limited closed down 0.84 percent at $14.45 and Apple closed down 2.08 percent at $442.66 on Thursday, at the end of a shortened trading week.
NEW! Discover a new stock idea each week for less than the cost of 1 trade. CLICK HERE for your Weekly Stock Cheat Sheets NOW!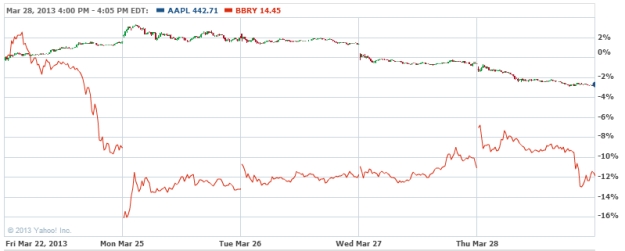 Don't Miss: Apple's Growing iCloud Claims Another Data Center.