Is Zynga Painting an Ugly Future with These Pictures?
Zynga (NASDAQ:ZNGA), the social-gaming company behind hit titles such as Words with Friends and FarmVille, surprised Wall Street by announcing better-than-expected financial results. However, there is still plenty to be concerned about.
After Tuesday's closing bell, the San Francisco-based company reported a net loss of $48.6 million (6 cents per share) for the fourth quarter, compared to a net loss of $435 million ($1.22 per share) a year earlier. Adjusted earnings came in at 1 cent per share, beating expectations for a 3 cents per share loss.
Revenue was also higher than expected. Zynga reported sales of $311 million, flat compared to the same period a year earlier, but above estimates of $212 million.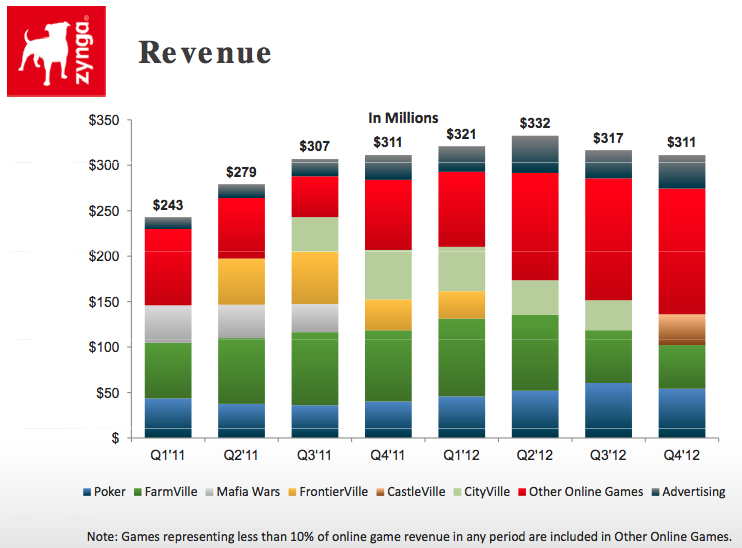 As the chart above shows, revenue has now declined at Zynga for two consecutive quarters.
"The biggest highlight of the quarter was seeing our team deliver a successful sequel in FarmVille2, a next generation social game that offers cutting edge 3-D experiences loved by millions of FarmVille fans," said Mark Pincus, chief executive officer and founder. "In 2013 we're excited to bring this new class of social games to mobile phones and tablets and build a network that offers an easier, better way for people to play together."
The decline in revenue was aided by a drop in bookings, the value of virtual goods sold. For the fourth quarter, bookings were $261.3 million, representing a 15 percent plunge from a year earlier, but a 2 percent increase form the third quarter. Prior to the fourth quarter results, bookings had declined for three consecutive quarters. Nearly 80 percent of the bookings in the fourth quarter were Facebook-related.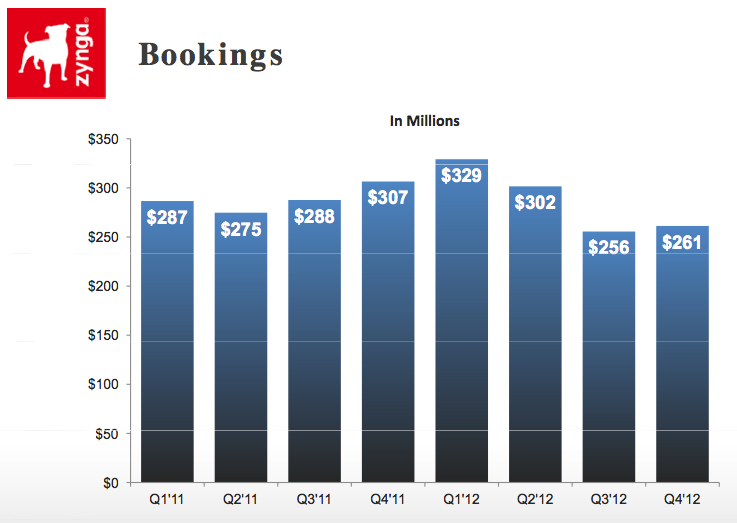 Looking forward, Zynga expects bookings to be in the range of $200 million to $210 million in the first quarter of 2013.
Unlike Facebook (NASDAQ:FB), which is still expanding its user base, Zynga is seeing a decline in users on a quarterly basis. In the fourth quarter, the number of daily active users totaled 56 million, down from 60 million in the previous quarter and 72 million in the second quarter of 2012. Year-over-year, daily active users edged 3 percent higher.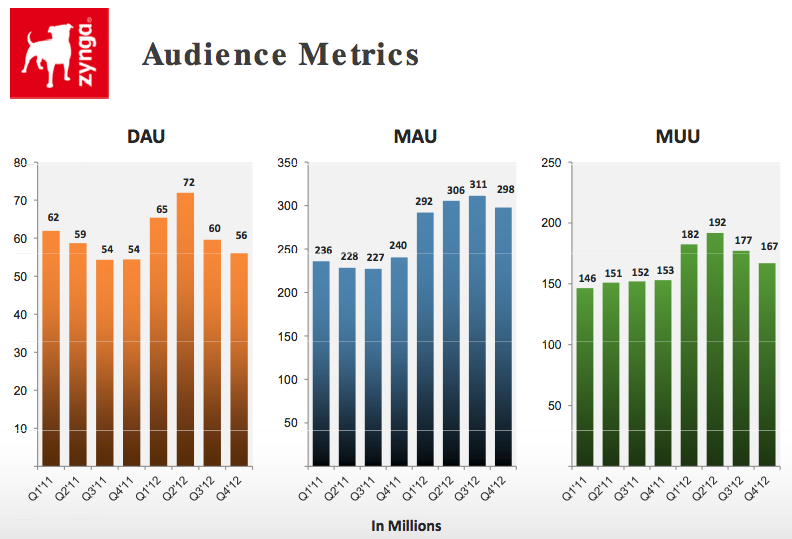 Monthly active users increased 24 percent to 298 million in the fourth quarter of 2012, compared to 240 million a year earlier. However, monthly active users declined from 311 million users in the previous quarter. Monthly unique users were also lower on a quarterly basis.
Zynga has been suffering from less exposure on Facebook, but five of the top 10 Facebook games at the end of last year were from Zynga, including Words with Friends and Zynga Power. Furthermore, Zynga looks set to make a stronger push into mobile.
"Our team executed well in the fourth quarter and made important progress in building sustainable new revenue streams and further aligning our company around our best growth opportunities," said David Ko, Chief Operations Officer, Zynga. "2013 will be a pivotal transition year and we are focused on achieving three strategic objectives: growing our franchises on mobile and web, expanding our network and maintaining profitability on an adjusted EBITDA basis. With 298 million monthly average users, including 72 million on mobile alone, Zynga already has the largest social gaming audience and remains the best positioned company to lead in building the future of social gaming."

On Tuesday, shares of Zynga gained more than 3 percent, while other popular Internet names such as Groupon (NASDAQ:GRPN) and Pandora (NYSE:P) also climbed higher. Yelp (NYSE:YELP) shares declined more than 1 percent. Although Zynga is up about 18 percent year-to-date, it is still one of the worst performers among Internet names, with shares down 70 percent since the $10 initial public offering price in December 2011.
Investor Insight: Is Apple Grossly Undervalued?