iTunes Radio Now More Popular Than Spotify and Gaining on iHeartRadio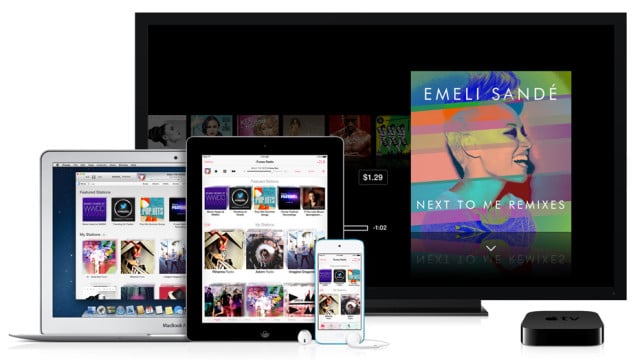 The Internet radio battles continue … sort of. Longtime favorite Pandora Media Inc. (NYSE:P) remains far and away the leader in music streaming services, but the competition for second place is heating up, as Apple's (NASDAQ:AAPL) iTunes Radio, which was released a few months ago, has surged ahead of rival service Spotify in popularity.
ITunes Radio now claims approximately 8 percent of the U.S. streaming music market just six months after launch, AppleInsider reports. The service must now compete with iHeartRadio, which currently holds the second place spot, after Pandora, with about a 9 percent share.
Electronista, which released the statistics, says it predicts iTunes Radio will handily overtake iHeartRadio by the end of the year. That seems reasonable, especially considering that Apple has slowly started to expand iTunes Radio beyond the U.S. The company added Australia just last month and is expected to add Canada, New Zealand, and the U.K. in the foreseeable future.
Meanwhile, competitor Spotify is already drifting behind Apple's Internet radio service, with about a 6 percent share of the market, while Google Play All Access comes in at fifth, with about 3 percent share. Several services share the sixth-place spot, with competitors Rhapsody, Slacker, and TuneIn Radio all comprising about 2 percent of the market.
Apple's iTunes Radio was released at the same time as the company's latest mobile operating system, iOS 7, in September, and reached more than 20 million users by October, having streamed more than a billion songs using the tech giant's new service, which is available on almost all Apple products, including iPhone, iPad, iPod touch, and Apple TV, as well as on both Mac and PC computers through the iTunes software.
As speedily as iTunes Radio has gained in the past six months, it's still a long way from overtaking Internet radio titan Pandora, which remains steadfastly the market leader. The streaming music service dominates about 31 percent of the market, according to newly released data from Statista and Electronista, per AppleInsider.
That said, it's important to note that Pandora took fourteen years to achieve its current top spot with 70 million active listeners, and that the service, despite its popularity, has continued to struggle with profits. The company has even warned investors it will continue to lose money for the next year or two. Given iTunes Radio's impressive first year and massive library of more than 15 million songs, it wouldn't be outrageous to speculate that the Apple's fledging service could in fact eventually be a contender.
More From Wall St. Cheat Sheet: