Jeff Gundlach: No Shorting Apple – For Now
Has a well-known Apple (NASDAQ:AAPL) investor changed his mind about shorting the tech company's stock? Well, yes and no. Jeffrey Gundlach, the CEO and CIO of DoubleLine Capitial, made a famously accurate call when he began shorting Apple in April of 2012 when it was still trading at around $610.
Gundlach predicted that Apple shares were headed toward the $425 mark due to "the real innovator not being there anymore, a lot of saturation, [and] a lot of incrementalism in their products," he said in a CNBC interview.
However, Gundlach now believes that Apple stock is "not expensive at all." Subtracting the cash, Gundlach notes that the price-earnings ratio, or P/E, is "in the sixes or sevens."
Has this convinced Gundlach to long Apple? Not quite. When pressed by the interviewer, Gundlach stated that "I would own it instead of shorting it," if forced to choose between owning or shorting it over the "next six months." Back in early March, when Apple was right around Gundlach's predicted price of $425, the investor believed the stock was at "fair value."
Although Gundlach thinks that Apple is "not going to be the company it used to be," he is also hedging his bets when he states that he is "not really positive or negative, I've just kind of moved on."
Apple shares responded to Gundlach's remarks with a minor bump earlier today before settling down $1.69, or 0.37 percent, at $459.10 in midafternoon trading.
Here's how Apple stock has traded so far this week.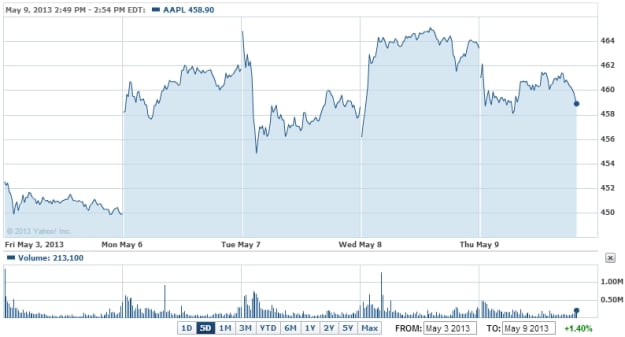 Don't Miss: Apple: Google Is No Friend of the Court.