JPMorgan Analyst: Good Things on the Way for Apple
Is Apple (NASDAQ:AAPL) about to rebound in a major way in the second quarter? According to JPMorgan analyst Thomas Lee via Barron's, Apple may rebound from its underperformance in the first quarter and show improvement in the second quarter. Citing historical quarterly trends from 2009 to 2012, Lee notes that companies that underperform in the first quarter sometimes straighten out in the second quarter.
With that in mind, Lee points out via Barron's that, "Technology analysts are the least bullish on their group since 2003 and excluding the 'bubble collapse' period, there has never been [a] time analysts are more bearish."
As so many analysts take a bearish posture on technology, short interest has rocketed. As Lee observes, "Short interest recently for both Materials and Technology surged to multi-year highs, For Technology, this is the highest level since 2006. Again, how much more negative can short-interest be? Or is this a contrarian indicator–we think so."
This translates into good news for Apple investors since JPMorgan selected Apple as one of its 20 stocks that has the potential to outperform in the second quarter.
Like the other 20 stocks named by JPMorgan, Apple underperformed the S&P 500's 10.6 percent first quarter growth and has a year-on-year increase in revenue. The other criteria for making the list of potential second quarter outperformers was having an overweight rating from JP Morgan analysts, as well as a free cash flow yield of over 5 percent reports Barron's.
Apple shares ended the trading week down 1.06 percent at $423.20 on Friday. The chart below shows Apple in comparison to the S&P 500 over the last 3 months.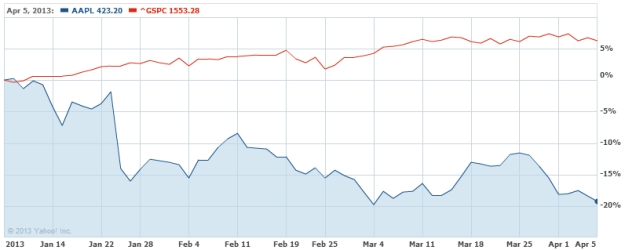 Don't Miss: Do Americans Believe the Housing Crisis is Really Over?