Judge to Google: Show Apple the Android Search Terms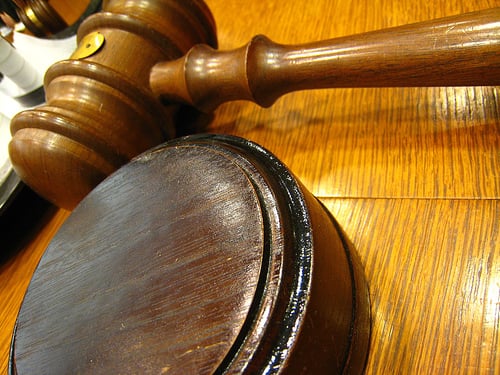 A judge has upheld Apple's (NASDAQ:AAPL) request that Google (NASDAQ:GOOG) reveal its search methodology for collecting Android documentation for the iPhone maker's upcoming patent infringement trial against Samsung (SSNLF.PK).  U.S. Magistrate Judge Paul S. Grewal dismissed Google's claims that Apple was overreaching, by compelling the Internet search giant to reveal the search terms and methods it is using to compile the requested Android documentation.
Google argued that Apple's pretrial information request was unduly burdening the company, but the judge disagreed with this perspective. Via Bloomberg, the judge stated in his decision that "the court cannot help but note the irony that Google, a pioneer in searching the Internet, is arguing that it would be unduly burdened by producing a list of how it searched its own files."
It's not often that three of the biggest movers and shakers in the tech world are simultaneously involved in one court case. However, that is exactly what is happening in Apple's second patent-infringement case against Samsung. Apple was awarded $1.05 billion in damages in the original trial. However, U.S. District Judge Lucy Koh reduced the original award amount by $450 million after citing the jury's use of an "impermissible legal theory."
Now Apple is engaged in pretrial discovery matters for another patent infringement trial against Samsung. As part of this process, Apple had requested that Google submit documentation related to its Android open source operating system that is an integral part of Samsung's allegedly infringing devices. Apple notes that the Android operating system "provides much of the accused functionality" in Samsung's devices.
However, Apple was also concerned that Google was not being as forthcoming as it should be with these documents. For this reason, Apple requested that the Mountain View-based tech company reveal the search terms and methodology it was using to produce the requested Android documentation.  Now it appears that the Cupertino-based company will have the full disclosure that it was seeking.
Here's how Apple stock has traded so far this week.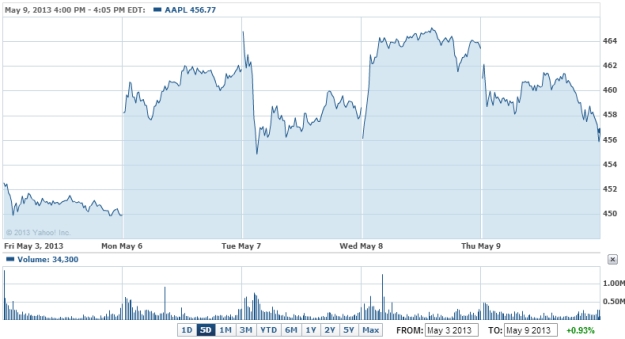 Don't Miss: Will Record Labels Kill The Apple iRadio Goose?