Last Week's Big Games Reviewed: A Mixed Bag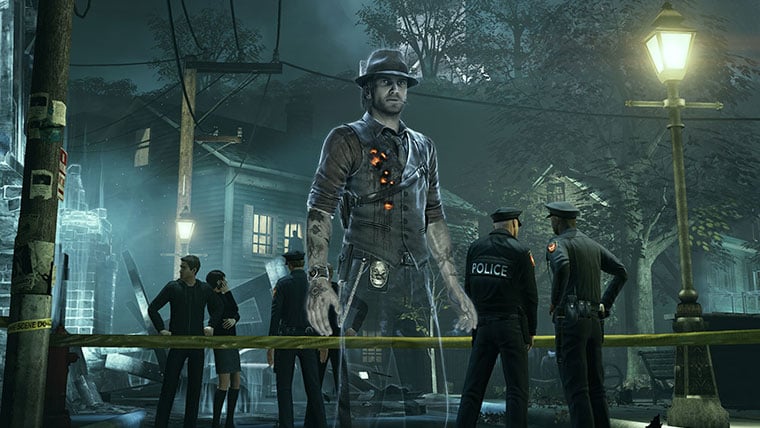 Last week saw the launch of mostly mid-tier games, a space in which developers can take more risk than you'll generally see in big, expensive AAA titles. The reviews are in, and some were winners while others were losers. Read on to see which titles are worth your hard-earned cash, and which ones to avoid.
Murdered: Soul Suspect
(PlayStation 3, PlayStation 4, Xbox 360, Xbox One, PC)
Consensus: Mixed
Last week's biggest title was Murdered: Soul Suspect, a detective game starring a tattooed hero who wears a fedora. The hero also happens to be dead, and it's up to his ghost — controlled by the player — to solve the mystery of who killed him and why. Since you're a soul stuck wandering between life and the afterlife, you have plenty of time to search Salem for clues, help other unprocessed souls reach the afterlife, and solve a heap of mysteries along the way. Think of it as an East Coast L.A. Noire, but with ghosts.
So how is it? Unfortunately, it's just "OK" according to most reviewers. It's overly linear for a detective game, and there's not a ton to do in the game besides solve the main mysteries and help other souls reach the afterlife. Plus, several people reported glitches and the occasional game-crashing bug. But for the most part, the bizarre story works and the game's setting of Salem is very well made. In the words of Polygon's reviewer, it "plays like a great B-movie." If you don't mind your games being a little silly and pulpy, this may be one to check out.

Ultra Street Fighter IV
(Xbox 360, PlayStation 3, PC)
Consensus: Favorable
Capcom loves to double-dip (and triple-dip, and quadruple-dip) in its Street Fighter series, but serious fighting game fans don't seem to mind. To a hardcore fan, each new edition brings new characters and additional nuances to their fighting techniques. This installment brings five new characters, six new stages, and rebalanced gameplay to the world of street fighting tournaments.
Reviewers have weighed in, and they agree that this game's a winner. The new game is like an expansion of the original, with new practice modes and team battles that reinvigorate the gameplay and help newbies become better combatants. One reason this installment is such a success is because Capcom incorporated lots of community feedback in this update, addressing many concerns serious fighting fans had. Whether you've kept up with the recent games in the series or not, it looks like now is a great time to dip back into.

Worms Battlegrounds
(PlayStation 4, Xbox One)
Consensus: Average
The Worms series has been around for a long time now, and it's easy to see why. The game stars adorable cartoon worms who engage in all-out warfare with each other, using high-caliber artillery and exploding sheep. This installment is set in a museum, with each of the 25 levels taking place in the diorama of a particular time period, like the Stone Age or the Industrial Revolution. You take turns plotting your movements and attacks, and bringing your enemies to their knees — in the cutest way possible.
Based on the reviews, this is just another Worms game — which is to say that it's fun, but nothing we haven't seen before. Even though it is out only for the new game consoles, the graphics are decidedly "last-gen," meaning it doesn't push the hardware in the least. But the turn-based battles are engaging and explosive, with more weapons than in any previous game in the series, and tons of levels to blast apart with heavy artillery. If you've played the series in the past and enjoyed it, you'll enjoy Battlegrounds. If you haven't, and are looking for a fresh title to play on your shiny new console, this might be one to pick up.

Tomodachi Life
(Nintendo 3DS)
Consensus: Mixed
Tomodachi Life is an eminently Japanese game, Nintendo CEO Satoru Iwata told The Wall Street Journal when he announced that the game was being localized for Western audiences. It certainly doesn't seem like your average American gamer fare. In it, your Mii characters — avatars used in Nintendo games — interact with the Mii characters of your friends in a Sims-like world. But instead of directly controlling your Mii, he or she lives out their life independently, leaving you to check in with the town whenever you want, offering the inhabitants things like food and gifts to make them happy. If it sounds unlike other games, it is. But just about everyone who's previewed the game agrees: the best way to understand the game is simply to play it.
So, how is it? Critics agree that this game is weird. Crazy weird. But they also say it's deeply funny, as long as you can get on board with its offbeat sense of humor. The silliness is infused in every bit of the game, from the characters' dialogue to the item descriptions. On the downside, there's nothing here that even remotely resembles a game, per se. There's no challenge to it, and not much to do in it, aside from checking in on how your Miis are getting along. But if you're looking for a game that you can drop in on a couple times a day for brief periods, this is it. If you're not sure if this kind of game is for you, try the similar — but more approachable – Animal Crossing: New Leaf, also for the 3DS. If you dig it and want more, give Tomodachi Life a shot.

WildStar
(PC)
Consensus: Mostly Positive
Many MMOs (massively multiplayer online role-playing games) have tried to dethrone World of Warcraft over the past decade, but none have succeeded. The next game to make the attempt is WildStar, a sci-fi MMO that was made by former employees of Blizzard, the makers of World of Warcraft. The game is set on a newly discovered planet called Nexus, where two groups, the Exiles and the Dominion, are duking it out for control over the planet. With eight races to choose from and deep sci-fi lore baked into the storyline, this could be the next big MMO we've been waiting for.
Giving any MMO a fair review takes weeks of playing, preferably with a large number of fellow players by your side. That's because these games change so much depending on how high you've leveled up your character. To that end, most sites are still in the middle of their "review in process." However, early reports indicate that the game is off to a good start. Although it borrows many ideas from established MMOs and the menus can be confusing, the game world is beautiful and intriguing, making you want to keep coming back for more. Check it out if you've let your World of Warcraft subscription lapse.
More From Wall St. Cheat Sheet: