LinkedIn Stands Out in the Internet Crowd
LinkedIn (NYSE:LNKD), the world's largest online professional network, is clearly standing out from other Internet players in the crowd today.
After Thursday's closing bell, the company reported impressive results for the fourth quarter. Net income surged 67 percent to $11.5 million (10 cents per share), compared to $6.9 million (6 cents per share) a year earlier. Excluding stock-based compensation expenses and other adjustments, earnings per share came in at 35 cents per share, easily beating analysts' expectations of 19 cents per share.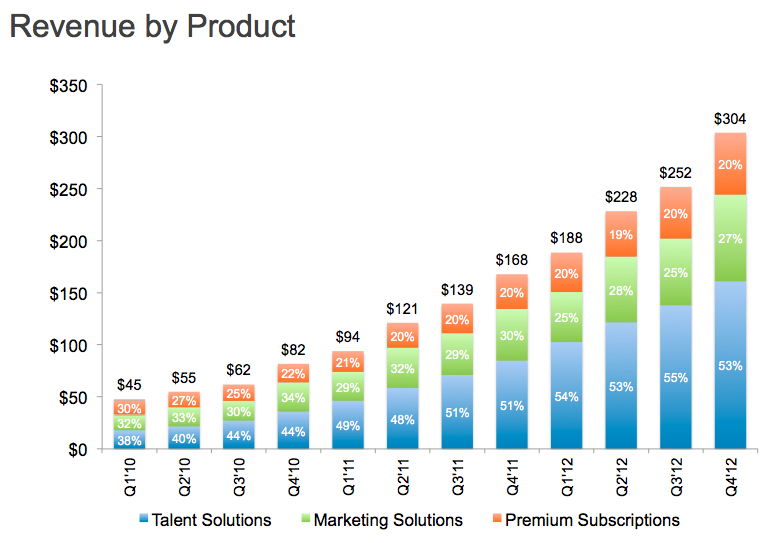 LinkedIn has three main revenue streams, all of which jump off the page from the prior year. Talent Solutions, which involves recruiting tools and represents the largest revenue source, surged 90 percent to $161 million. Marketing Solutions, LinkedIn's ad business, gained 68 percent to reach $83.2 million. Meanwhile, Premium Subscriptions totaled $59.4 million, an increase of 79 percent from the fourth quarter of 2011.
New all-time high…
In the fourth quarter, LinkedIn passed the 200 million member milestone and finished the year with 202 million members. Unique visitors on a monthly basis reached a record 116 million, compared to 92 million a year earlier. Despite two quarters of declining page views, the metric rebounded to 9.8 billion.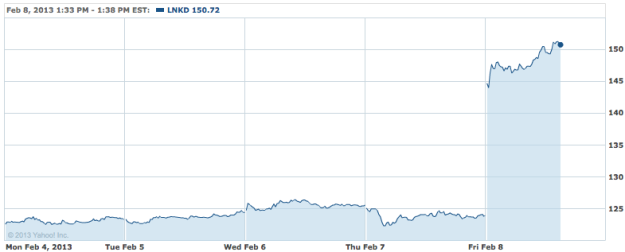 As the chart above shows, LinkedIn shares surged more than 20 percent on Friday to reach as high as $151.47. Since going public in May 2011 at $45, shares have more than tripled. Meanwhile, other Internet players in the crowd such as Facebook (NASDAQ:FB), Zynga (NASDAQ:ZNGA), Pandora (NYSE:P) and Groupon (NASDAQ:GRPN) all trade below their initial public offering price.
After the strong quarterly results, Wedbush Securities, Evercore Partners, Cantor Fitzgerald, BMO, Bank of America, Macquarie, Piper Jaffray and Northland Capital all raised their price targets on LinkedIn.
Don't Miss: Are Facebook Users Becoming Less Interested?