LNKD Charts: Still in the Winner's Circle on Wall Street
The line between popular social players and outcasts is becoming more clear by each earnings report. Many Internet companies have attracted heavy attention in recent years, but LinkedIn (NYSE:LNKD) is one of the few players that remain in the Winner's Circle on Wall Street.
After Thursday's closing bell, the world's largest professional network on the Internet reported impressive results for the fourth quarter. Net income surged 67 percent to $11.5 million (10 cents per share), compared to $6.9 million (6 cents per share) a year earlier. Excluding stock-based compensation expenses and other adjustments, earnings per share came in at 35 cents per share, easily beating analysts' expectations of 19 cents per share.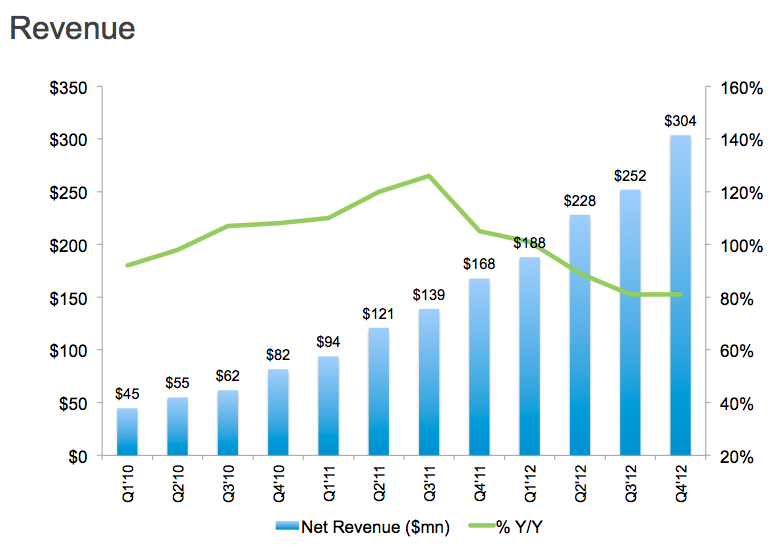 Although revenue on a year-over-year basis has declined from its peak in 2011, sequential improvements remain a highlight on LinkedIn's resume. As the chart above shows, revenue in the fourth quarter reached $304 million, up 81 percent from $168 million a year earlier. For the full year 2012, revenue gained 86 percent to $972.3 million.
Revenue climbs across all products…
"2012 was a transformative year for LinkedIn," said Jeff Weiner, chief executive officer. "We exited 2011 having successfully revamped our underlying development infrastructure. Based on that investment, we said that 2012 would be a year of accelerated product innovation, and it was. The products we delivered throughout the year drove member engagement and financial results to record levels in the fourth quarter."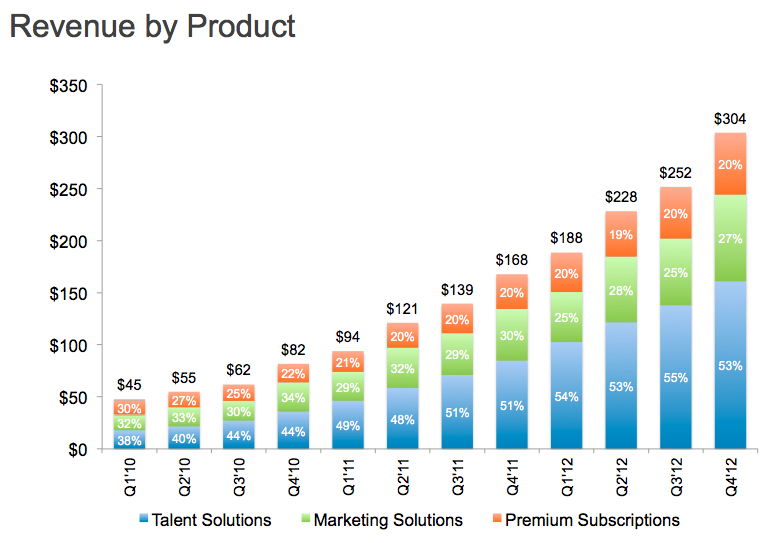 LinkedIn has three main revenue streams, all of which jump off the page from the prior year. Talent Solutions, which involves recruiting tools and represents the largest revenue source, surged 90 percent to $161 million. Marketing Solutions, LinkedIn's ad business, gained 68 percent to reach $83.2 million. Meanwhile, Premium Subscriptions totaled $59.4 million, an increase of 79 percent from the fourth quarter of 2011.
International sales continue to grow…
Revenue from the United States totaled $189 million, representing 62 percent of total revenue, down from 67 percent a year earlier. Revenue from International markets reached 38 percent of total revenue at $114.6 million, compared to 33 percent a year earlier.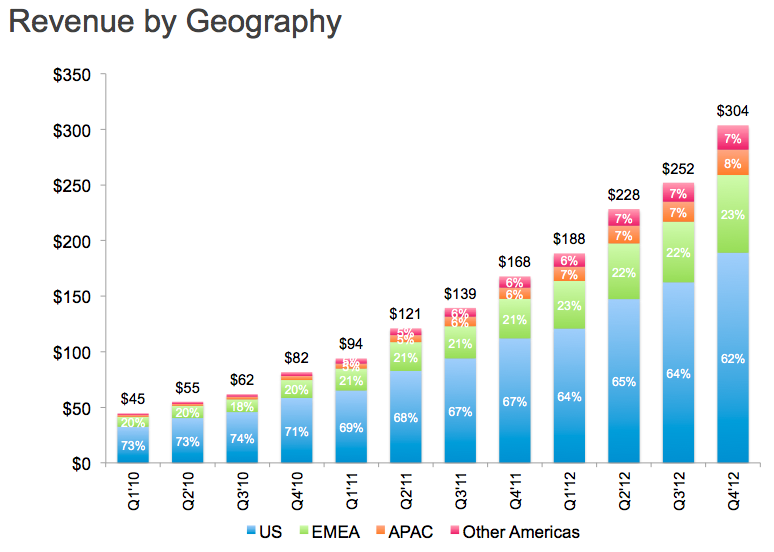 "Continued investment in our talent and technology infrastructure drove momentum in both product and monetization, resulting in record revenue, profitability, and cash flow," said Steve Sordello, CFO of LinkedIn. "As we look forward to 2013, we remain excited about the value LinkedIn will create for members and customers in the coming year."
LinkedIn adds two members every second…
In the fourth quarter, LinkedIn passed the 200 million member milestone and finished the year with 202 million members. Unique visitors on a monthly basis reached a record 116 million, compared to 92 million a year earlier. Despite two quarters of declining page views, the metric rebounded to 9.8 billion.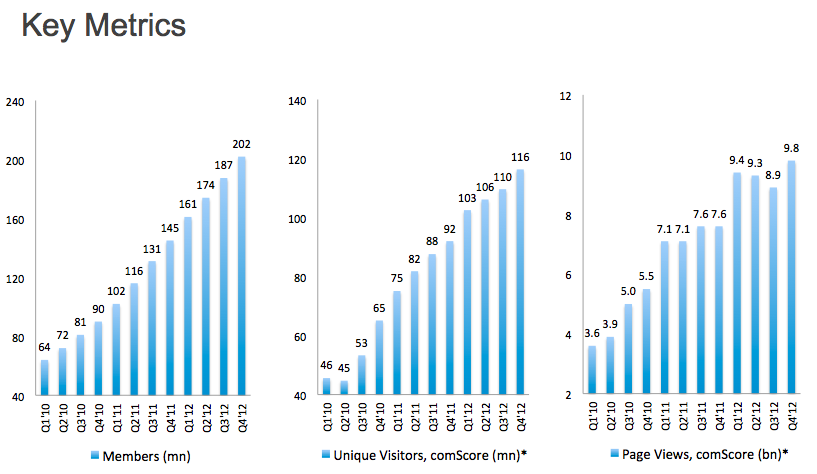 LinkedIn was the 25th most visited web property in the world in December. Since redesigning its homepage, views are up nearly 70 percent.
While outcasted Internet players such as Facebook (NASDAQ:FB), Zynga (NASDAQ:ZNGA), Pandora (NYSE:P) and Groupon (NASDAQ:GRPN) all trade below their initial public offering price, LinkedIn continues to climb higher. The company went public in May 2011 at $45 a share, but jumped more than 15 percent after the financial results to hit a new all-time high above $143.
Investor Insight: What Does Apple Do With its Massive Cash Hoard?