Look out Adobe! Apple-Exclusive Digital Publishing Tool On the Way
The online magazine Trvl has been a big part of iPad history since it was launched as an application exclusively for the device in 2010. Since then, it has become one the most celebrated applications on Apple's (NASDAQ:AAPL) iOS Newsstand according to Neil Hughes at Apple Insider. This month it published issue number 100 and surpassed over 1 million downloads. However, the creative team behind Trvl has even more surprises in store for Apple users this summer, when they plan on launching a proprietary publishing tool dubbed Prss reports Apple insider.
After initially using Adobe's (NASDAQ:ADBE) InDesign digital publishing tool to create Trvl, the co-founder of the magazine, Michel Elings, discovered that the third-party platform just was not suited to their unique iPad publishing needs. Elings notes that many iPad magazines do not take advantage of the multiple viewing modes available on the iPad and instead only release their magazines in either landscape or portrait mode. He believes this is because most conventional digital publishing tools make creating documents for both modes a laborious process that can take up to three days.
That is when Eling began working on Trvl's own proprietary digital publishing tools reports Apple Insider. Prss is an iOS-exclusive digital publishing tool that reduces the time needed to create documents for both of iPad's viewing modes from three days to one hour.
Besides being more iPad-friendly and intuitive to use, Prss will also be cheaper. It will be free to use, excluding a small fee for publishers who want to sell their online magazines through the iOS App Store reports Apple Insider. Elings maintains that Prss will still be cheaper than comparable digital publishing tools like Adobe's InDesign, which requires up to "a 30 percent cut of sales."
Although Elings has plans to eventually release Prss on Apple's iPhone and iPod Touch, do not look for Prss on any Android-driven platforms anytime soon. The co-founder of Trvl notes that in his experience, developers just do not have a "big passion" for Google's (NASDAQ:GOOG) Android.
Apple shares fell $4.53, or 1.04 percent, to close at $429.80 on Friday. Adobe shares shed $0.18, or 0.40 percent, to close at $45.03.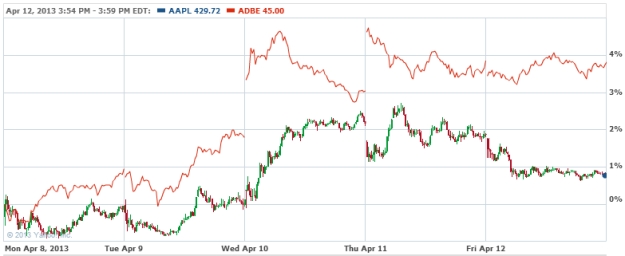 Don't Miss: Here's How Apple's Making China a Top Priority.