Lyft Is the Latest Sharing Economy Startup to Face Resistance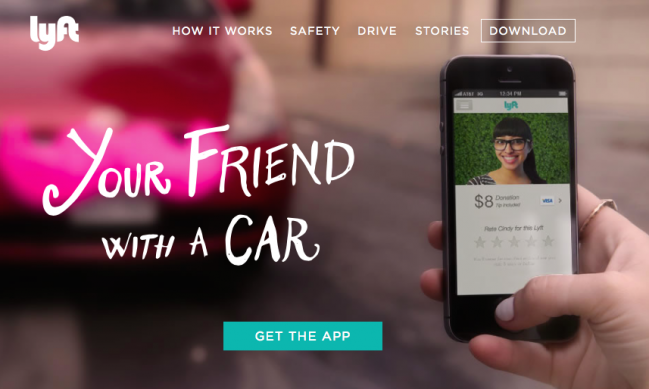 Lyft's launch in New York City is the latest battleground for resistance against so-called "sharing economy" services and companies, a crop of tech-facilitated startups that look to upend the way traditional industries like taxis and hotels work for consumers.
The New York Post reports that the ride-sharing app will launch its services in Brooklyn and Queens tomorrow, even though its service is illegal in New York City. The company hasn't been certified by the Taxi and Limousine Commission, which has declared Lyft an "unauthorized service," according to the New York Times. However, despite a statement released by the  commission, and the consequences that it threatens for Lyft drivers, the company still plans to go forward with the launch on Friday.
More than 500 New Yorkers will drive for Lyft, which operates in 65 other cities. Each of those drivers risks steep fines or even having his or her car seized, since technically Lyft drivers will be working as illegal cabbies. The Taxi and Limousine Commission warned of the consequences: "Unsuspecting drivers who sign up with Lyft are at risk of losing their vehicles to T.L.C. enforcement action, as well as being subject to fines of up to $2,000 upon conviction for unlicensed activity." The New York Post reports that anyone offering a ride for money without a license from the Taxi and Limousine Commission is subject to a $600 penalty, plus $185 in tow fees. A second offense costs $800, and the third offense and beyond cost $1,000.
Lyft maintains that the city's taxi and limousine regulations don't apply to ride-sharing apps. Of course, the Taxi and Limousine Commission doesn't agree, and spokesperson Allan Fromberg told Time:
"Lyft has no license to operate in New York City. We are strongly encouraging them to work with us as we have worked together with so many other companies, like Uber, TaxiMagic, Hailo, Whisk and Gett, etc., to do the right thing. We have an impressive track record of embracing and welcoming new technology and new transportation options, and we hope they will ultimately do what's right in the name of public safety and consumer rights."
In a blog post announcing the service's rollout in two boroughs of New York City, Lyft makes the argument that New York City residents need better transportation options:
"Brooklyn and Queens are vastly underserved by public transit options compared to the rest of New York City. In fact, just one of New York's 23 subway lines passes solely between boroughs, and 95 percent of taxi pickups happen in Manhattan or a local airport. The people of New York deserve more transportation options. Lyft provides greater access to a safe, affordable personal transit alternative that is built for New Yorkers, by New Yorkers."
The post also notes that all New York Lyft drivers have gone through a screening process, which the company claim "is more stringent than what's required for NYC taxis, including a strict background check, vehicle inspection, and $1,000,000 insurance that provides more than three times the $300,000 minimum for taxis." The Taxi and Limousine Commission argues that Lyft hasn't complied with its safety requirements for drug, criminal, and traffic-related background checks, though Lyft makes a point of constructing a safety and liability comparison chart, where it notes that it screens out candidates with violent crime convictions, sexual assault convictions, reckless driving convictions in the past three years, and DUI convictions in the past seven years.
Uber, another ride-sharing app and service, also had its legality questioned when it first launched in New York City. Initially, Uber drivers didn't sign on in great enough numbers, fearing consequences doled out by the Taxi and Limousine Commission. The commission argued that Uber violated its regulations against prearranged rides in yellow taxis, and its rules against cabbies using electronic devices while driving. The service was later approved by the city, and while UberX operates in 74 other U.S. cities as a ride-sharing app, its New York drivers have a taxi license and follow what amounts to a fairly traditional commercial model. Ahead of Lyft's launch, Uber cut the cost of its UberX service by 20 percent in New York City.
As Wired's Marcus Wohlsen pointed out in a recent piece, "Uber's brilliant strategy to make itself too big to ban," the company is prioritizing popularity over profit in order to grow. Wohlsen notes: "If it gets big enough quickly enough, the political price could become too high for any elected official who tries to pull Uber to the curb."
The popularity-before-profit philosophy is common in the startup world and beyond, and even Amazon (NASDAQ:AMZN) prioritizes offering low prices to build a loyal customer base at the expense of profitability. But building out an industry disrupting service to the point that it becomes "too big to ban" is an idea that's growing in popularity as well. It's the same strategy considered by a variety of tech-facilitated startups or products that have faced resistance from various local governments, like short-term rental service Airbnb.
Airbnb, like Lyft and Uber, is a concept ascendant from the new sharing economy. Its service has grown on such a massive scale that it's a viable competitor against players in the traditional hotel industry, and even smaller cities are forced to consider how to regulate the business. That's in spite of several notoriously bad user experiences, which led to controversy over the service's legality in several cities. Money recently reported on seven smaller cities around the world who have been forced to confront the question of whether and how to regulate services like Uber, Lyft, and Airbnb. Albuquerque, New Mexico; Barcelona, Spain; Brussels, Belgium; Buffalo, New York; Grand Rapids, Michigan; Kansas City, Missouri; and Malibu, California have all imposed strict regulations or outright bans against Uber, Lyft, or Airbnb.
"Local officials don't quite know what to make of them — and the kneejerk reaction of regulators is often to side with the tradition businesses these sharing economy services intend to disrupt," wrote Brad Tuttle.
It's that tendency to regulate against the companies that use technology to disrupt areas or entire industries that makes those forming the backbone of the controversially-named sharing economy the target of criticism and the subject of arguments. Politicians' propensity to regulate against these companies also gives the impression that someone is running on borrowed time. Whether that's the politicians — who could find themselves trying to ban something that's already too ubiquitous to get rid of — or the companies — who could be shut down before they get to that point — remains to be seen.
For many people, though, especially those who use and benefit from the new services, the companies behind them represent a smart and modern way to link supply and demand. The more people who use the services regularly and feel that they fulfill a need that the traditional industry isn't able to meet, the better for sharing economy startups and standbys. Lyft, Uber, or Airbnb are all looking to affect such a large number of users to achieve a degree of ubiquity that regulators would be overwhelmed by complaints if the services were taken away.
The inevitable outcome seems to be that the tech sector and governments will need to find a measure of balance, where tech-facilitated innovations don't ignore unresolved political battles to operate illegally, but alternately aren't given free reign to operate in the absence of any broader regulations on safety, insurance, and liability. If Lyft, Uber, and Airbnb gain enough traction, they'll have lasting effects on the taxi and hotel industries, and politicians will be forced to work toward new regulations. That kind of disruption is both great for consumers and ripe ground for innovation.
More From Wall St. Cheat Sheet: