Major Apple Supplier Gets April Sales Bump
After posting a first quarter drop in earnings revenue, Foxconn, also known as Hon Hai Precision Industry, has seen its latest figures rise. According to Patently Apple, Foxconn saw a 12 percent monthly increase in total sales for April due to an increased demand for consumer electronics products.
Foxconn is one of Apple's (NASDAQ:AAPL) largest suppliers, with an estimated 40 percent of its total sales revenue derived from the Cupertino-based company. Although the Taiwan-based manufacturer makes many branded electronic consumer products for companies like Dell (NASDAQ:DELL), Amazon (NASDAQ:AMZN), and Hewlett-Packard (NYSE:HPQ), it is perhaps best known as the maker of Apple's iPad and iPhone products.
Foxconn's recent change of fortune was reflected by an increased interest in Hon Hai stock. Via Focus Taiwan, MasterLink Securities analyst Tom Tang stated, "I think many investors have simply seized such a positive lead as a reason to buy into Hon Hai shares for the moment." With Apple expected to launch new iPhone and iPad models later this year, investors are expecting that the Taiwanese manufacturing giant will receive a related boost in revenue.
Apple shares closed down 0.83 percent at $452.97 on Friday after shedding $3.80 from its price at the opening bell. Here's how Apple has traded over the past week.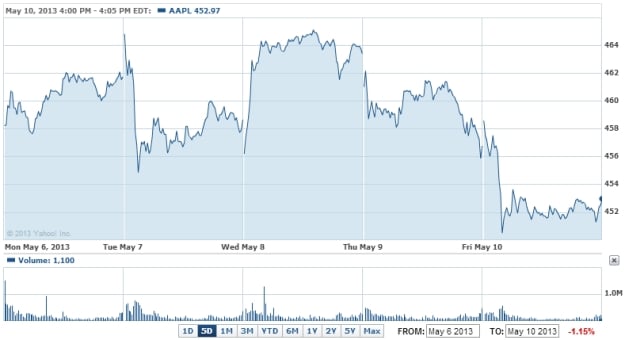 Don't Miss: Who Has the Toughtest Smartphone Glass?