Mario Gabelli Says 'No' to Apple, 'Yes' to Breakfast Cereals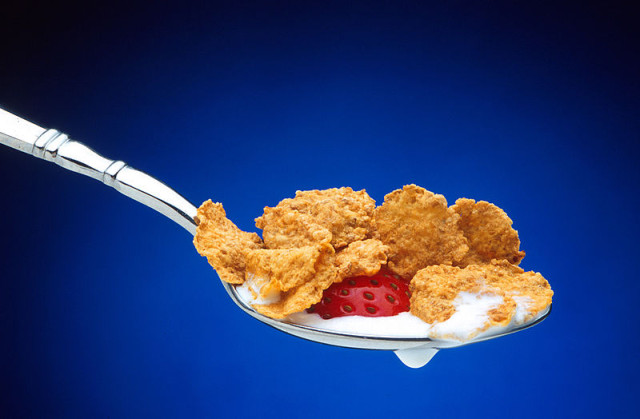 Mario Gabelli, CEO of Gabelli Asset Management Company Investors, recently shared his perspective on Apple (NASDAQ:AAPL) and other technology stocks with CNBC host Scott Wapner. As noted by Wapner, Gabelli doesn't own any Apple stock. Although Gabelli conceded that Apple is "mechanically and numerically" good, he noted that he also has a "bias towards predictability." In Gabelli's view, many tech companies are lacking this important quality.
"I go back 100 years and there was a company called Grape-Nuts [owned by Post Holdings (POST)]. In 1920, there was RCA. In the fifties, you remember Polaroid. You remember Xerox (NYSE:XRX). And — you still have Grape-Nuts and you still have Cheerios [owned by General Mills (NYSE:GIS)]. Fast forward, in 1980 you have the [Sony (NYSE:SNE)] Walkman and you have Cheerios. Fast forward in 1990 or 1995, you have the company that made the Taser (NASDAQ:TASR) gun and Krispy Kreme (NYSE:KKD) and you still have cereals. It is the predictability of cash flow and it is the pricing power and so I have a bias towards that predictability over the next five or ten years," stated Gabelli.
However, Gabelli also noted that, "There is no question it [Apple] is an overcapitalized company. What a great product and long lines." On the other hand, he questioned whether "Cook is going to be able to keep that dynamic going."
Although Gabelli is apparently not inclined to buy Apple stock himself, he believes that Greenlight Capital's David Einhorn had the "right idea" by trying to create permanent preferred shares for Apple investors. He observed that this would have given "a big tax advantage to owners."
Finally, Gabelli noted that he likes to buy "the ignored and the unloved" when it comes to investing in stocks. In this sense, Apple may be the complete opposite of what Gabelli looks for in a company. Here's how Apple traded over the past five trading sessions.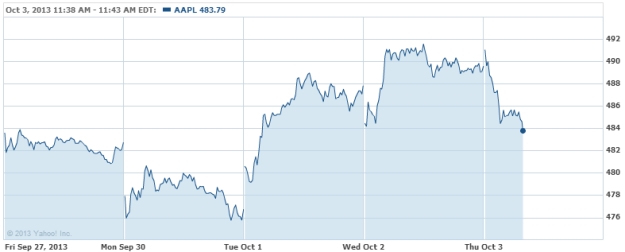 Follow Nathanael on Twitter (@ArnoldEtan_WSCS)
Don't Miss: Here's Why Apple's iPhone 5S Delay Isn't All Bad.