Market Data Proves Apple Is Eating Samsung's Lunch
Apple's record-setting revenue and sales numbers for the fourth quarter of 2014 proved that the company's latest larger-screen iPhone models were overwhelming hits. The tech giant sold 74.5 million iPhone units last quarter, far surpassing analysts' consensus expectations of 66 million units and even topping KGI Securities analyst Ming-Chi Kuo's bullish prediction of 73 million units, as reported by AppleInsider. Apple's iPhone sales fueled the company's record quarterly revenue of $74.6 billion, a 30% increase over last year, as noted by CEO Tim Cook.
Not surprisingly, Apple's unprecedented success in the fourth quarter of 2014 also resulted in some bad news for one of the iPhone maker's primary competitors. Newly released data from several market research firms appear to show that Apple archrival Samsung has suffered the most from the popularity of the iPhone 6 and the iPhone 6 Plus. According to the latest research from Strategy Analytics, Apple's record 74.5 million iPhone sales tied Samsung's smartphone sales during the holiday quarter. As noted by Re/code, although Samsung didn't reveal its exact smartphone sales numbers for the fourth quarter of 2014, the company claimed that close to 80% of its 95 million total mobile phone sales consisted of smartphones.
According to Strategy Analytics's data, Samsung's December quarter smartphone sales numbers represent a year-over-year decline of 13%, while Apple's iPhone sales increased by 46% over the same time period. Similarly, Apple's worldwide smartphone market share in the December quarter increased to 19.6% from the 17.6% share it held in the year-ago quarter, while Samsung's share slipped 10 percentage points from the 29.6% share it held in the fourth quarter of 2013. Although Samsung still maintained the overall worldwide smartphone market lead in 2014 with a 24.7% share compared to Apple's 15% share, the data reflects a shocking reversal in the Samsung's fortunes.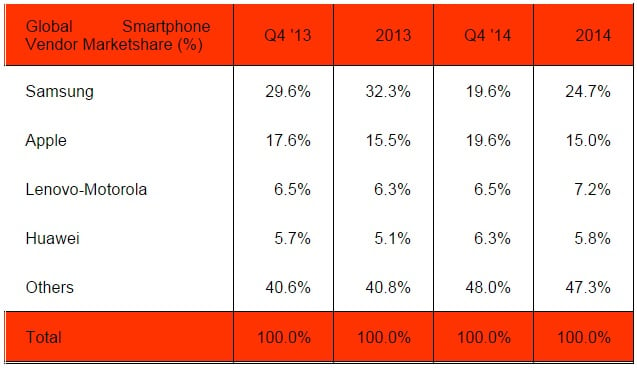 As noted by Strategy Analytics, Samsung has maintained a global smartphone market share lead over Apple since the first quarter of 2012. Although Apple's surging iPhone sales undoubtedly helped erode Samsung's sales last quarter, the data also shows that low-cost Chinese smartphone vendors shared responsibility for Samsung's recent downturn. Chinese PC maker Lenovo — which acquired Motorola Mobility from Google last year — claimed the No. 3 spot after increasing its year-over-year fourth quarter unit sales by 31%. Huawei — another low-cost Chinese smartphone maker – took the No. 4 spot after increasing its year-over-year quarterly sales by 45%.
Among the top five vendors cited by Strategy Analytics – including the broad "Others" category – only Samsung saw a decrease in its year-over-year sales and market share. Since Lenovo-Motorola, Huawei, and many of the companies in the "Others" category are low-cost vendors based in China, it appears that Chinese smartphone makers are just as responsible for Samsung's declining sales as Apple. Meanwhile, Apple's recent entry into the phablet segment of the smartphone market has allowed the iPhone maker to steal market share from both Samsung and low-cost Chinese smartphone makers.
According to a recent press release from market research firm Canalys, the popularity of the 4.7-inch iPhone 6 and 5.5-inch iPhone 6 Plus has allowed Apple to take the No. 1 spot in the Chinese smartphone market for the first time ever. The phablet category was pioneered by Samsung through its line of large-screen Galaxy Note devices and the popularity of these devices in Asian markets helped make the company a best-selling brand in China. However, the recent rise of China's domestic smartphone vendors and the debut of the iPhone 6 and the iPhone 6 Plus has pushed Samsung down to the No. 3 spot in China, according to Canalys's data. Xiaomi, a company that recently unveiled a Mi Note phablet that costs less than many of Samsung's devices while offering comparable technical specifications, took the No. 2 spot after Apple.
While Samsung may be able to reclaim its smartphone market crown next quarter after the consumer excitement over Apple's larger-screen models dies down a little, there are several reasons to believe that the Samsung will not be able to reverse its overall smartphone market decline without making drastic changes. Now that Apple has entered the phablet segment, Samsung no longer has a smartphone product that differentiates it from its primary high-end iOS competitor, or from the increasing number of cheaper Android alternatives — especially in the lucrative Chinese market.
Finally, it should be pointed out that even when Samsung was routinely selling more smartphone units than Apple, the iPhone maker was still dominating in the most important metric of all for any company: Profit. For example, Samsung sold 85 million units in the first quarter of 2014, almost twice the 43.7 million units that Apple sold that quarter, according to IDC data. Despite this sales number gap, Apple still managed to take 65% of the profits that quarter, compared to the 41% share taken by Samsung, according to Canaccord Genuity estimates cited by AppleInsider. (Total smartphone market profits equal more than 100% due to operating losses by some companies). For this reason, Apple's fourth-quarter sales tie with its longtime chief rival could be the first sign that Samsung's already tenuous "lead" in the worldwide smartphone market is beginning to crumble.
Follow Nathanael on Twitter @ArnoldEtan_WSCS
More from Tech Cheat Sheet: